You made this happen: ACE's Annual Report.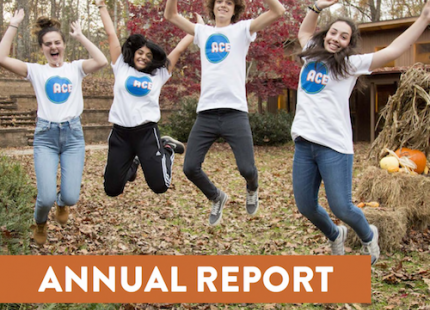 As we gather together with friends and family to look back at 2018, we are all so grateful to the ACE community.
The year has been defined by climate change. As I write this, communities are still recovering from the devastating hurricanes and flooding in the southeast, and California is being ravaged by the deadliest wildfire in its history. The recent IPCC report issued a dire warning that we have just 12 years to drastically change the way we live in order to address climate change. At the same time, the federal government continues to deny climate science and pursues policies that would set us back.
Despite these challenges, we are inspired by what ACE youth have accomplished with support from our full ACE community of Fellows, teachers, partners, and supporters. We're excited to share ACE's annual report for the 2017-2018 school year, which highlights our achievements, including:
475,000 students educated on climate science, impacts, and solutions.
195,000 actions taken by ACE's Youth Action Network focused on climate policy and other social justices issues ranging from gun safety to equity and just immigration policy.
30 youth climate videos produced that tell the powerful stories of young leaders who are impacted by climate change and taking the lead in making the issue urgent and relevant.
Dozens of partnership campaigns including a collaboration with Our Children's Trust and Duke University to push North Carolina to reduce CO2 emissions to zero by 2030.
Most recently, ACE staff, Action Fellows, and Youth Action Network members contacted over 350,000 youth, urging them to vote for climate leadership in the 2018 midterm elections and beyond.
We truly could not do this work without you. Thank you for supporting ACE and believing in the power of young people to create the future we all deserve.