Latest IPCC Report: Time for Action on Climate Is Running Out
Rebecca Anderson
|
October 9, 2018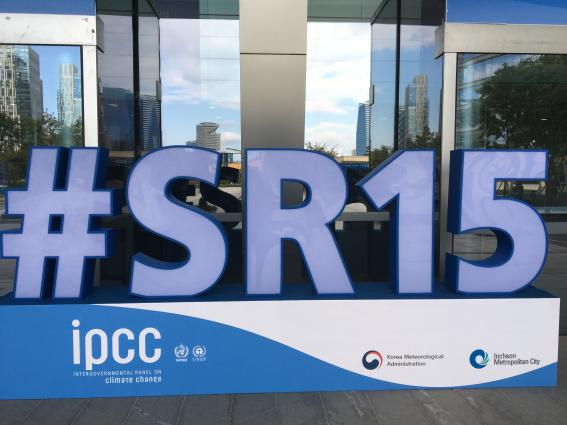 This week, the IPCC or Intergovernmental Panel on Climate Change, published its latest scientific report, Global Warming of 1.5ºC, on what it will take to limit climate change to 1.5º.
The IPCC has been putting out reports, chronicling the state of the climate and projections for future climate change since its first report in 1990. As research on climate change has grown, these reports have grown ever bulkier and more complex. By the time the fifth assessment report (AR5) came out in 2014, six years in the making and thousands of pages long, it was clear that shorter, more timely reports were needed to respond to real-time questions from policymakers and the public about pressing climate issues.
The most recent publication is one of those shorter, more timely reports. It was created in response to the Paris Climate Agreement's goal of limiting warming to less than 2ºC with a further ambition to limit warming to 1.5ºC, or 2.7ºF. The big question was: Is it even still possible to limit warming to less than 1.5º?
The answer is yes, but just barely. The report concludes that we will reach 1.5ºC warming in the next 12-34 years, between 2030 and 2052, based on current warming. That is not a lot of time in which to fully overhaul the way the entire world obtains and uses energy. The report projects that by 2030, we will have to reduce CO2 emissions by 45% and then reduce emissions even more, down to net zero emissions by 2050.
That will be incredibly hard. And even if we are able to limit warming to 1.5ºC, that doesn't mean we will be able to avoid the impacts of climate change. The IPCC report makes clear that climate change gets significantly worse for every tiny bit we ratchet up the temperature. So, while the impacts of 1.5º warming are not good, the impacts at 2.0º warming are far worse.
"Every extra bit of warming makes a difference," said Hans-Otto Portner, co-chair of IPCC Working Group II on climate impacts.
Human impacts, including dislocation from sea level rise, extreme heat, food and water insecurity from drought, air pollution, and flooding from extreme storms, are already being experienced by the world's most vulnerable people. People in developing countries, low-income people of every country, people of color, people in the tropics, indigenous people and small island nations are already experiencing these impacts particularly acutely. The gap between climate impacts on these communities and wealthier nations and individuals will only grow larger as climate change continues.
The gap between climate impacts on these communities and wealthier nations and individuals will only grow larger as climate change continues.
Aromar Revi, one of the 132 authors of the report states, "In some parts of the world, national borders will become irrelevant. You can set up a wall to try to contain 10,000 and 20,000 and one million people, but not 10 million." The report projects that limiting warming to 1.5° compared with 2° could reduce the number of people both exposed to climate-related risks and susceptible to poverty by up to several hundred million by 2050. Each one of those millions is a human life.
But we can also choose to see hope in the face of this daunting prospect. Today's teenagers are coming of age at a crucial time for our planet. Young people care more about climate change than any other age group in the U.S. How much they choose to prioritize climate action will determine whether we warm 1.5º, 2º or more. Their decisions – about their careers, their lifestyles, their consumer habits and their voting behavior – will be what makes the difference.
And we know that many young people are consciously making those climate-based decisions right now, talking to their parents about climate change, speaking out on social media, and registering themselves and others to vote. They know that their lives are at stake and they want to make their voices heard. In a recent less-publicized but equally valuable report, the National Environmental Justice Advisory Council, an advisory committee to the Environmental Protection Agency, featured the recommendations of youth voices in its publication, "Youth Perspectives on Climate Change: Best Practices for Youth Engagement and Addressing Health Impacts of Climate Change."
Young people know that their lives are at stake and they want to make their voices heard.
This report highlighted three key principles for authentically engaging with young people on climate and environmental justice:
Let Frontline Youth Speak For Themselves: Require climate change and public health grantees, staff, boards, federal advisory bodies, and other decision-making tables consist of at least 20% from impacted communities and create youth advisory work groups for every government agency. Affirm work that matters to young people and align with their values.
Invest in Rising Leadership: Pay young people at a living wage for research, organizing, and education work, including internships and apprenticeships. Increase accessibility to climate change curricula especially outside higher education institutions, allocate resources for transportation, internet connectivity, language, and communication barriers, and provide trainings for grant-writing and civic engagement skill-building. This also requires a willingness by organizations to learn from youth, especially when it comes to storytelling, movement-building, and technical training.
Uplift Intergenerational Collaboration: Allow change to happen at the speed of trust and apply respect and recognition in both directions. Combat inequitable power dynamics of ageism and credentialism that often lead to competing, co-opting, or providing inconsistent funding to successful youth work. Work with partners that have already gained the trust of local youth leaders if there aren't already established youth-led spaces.
ACE was proud to be a featured program of this report, showing how ACE programs such as the ACE Action Fellowship develop youth leadership skills on climate to prepare them to tackle climate change in their lives and careers. Committing to practices such as these that give young people a meaningful role in solving climate change is essential to our efforts to keep warming below 1.5º and gives us our best chance of survival.