ACE and Washoe County AQMD Partner Up for Idle Free Schools
Rebecca Anderson
|
May 31, 2018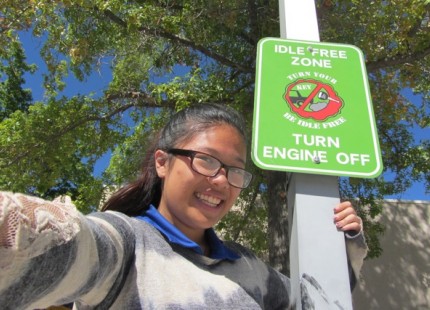 In April, Washoe County Board of Health gave a special recognition to ACE for its long-standing partnership with Washoe County Air Quality Management Division (AQMD). Charlene Albee, Director of the Air Quality Management Division, spoke before the Board about the long history of partnership between ACE and AQMD and highlighted ACE's recent release of a new climate education resource, Our Climate Our Future, which AQMD has shared with the public.
The partnership began with an Idle Free Schools campaign in 2013 with the goal of reducing car and bus idling at all Washoe County Schools and eventually passing a district-wide idle free policy throughout Washoe County School District (WCSD). This goal was finally realized in 2017 when the WCSD Board of Trustees passed not only an idle-free schools policy but a comprehensive Conservation and Sustainability Policy, for which it received a Golden Pinecone Award in 2017.
The ACE-AQMD partnership began in the fall of 2013, when AQMD gave a guest presentation on air quality at a GREENevada Student/Teacher Leadership Retreat. This presentation sparked a discussion among students about car and bus idling at schools where many students complained about the amount of car and bus idling that happens at their school at the end of the school day. This was the spark that led to the creation of Idle Free Schools.
In the first year of the campaign, six pilot high schools competed to reduce car and bus idling. Students monitored car and bus idling at the end of the school day to establish a baseline. Students then worked to educate their peers about the benefits of not idling. Following the education campaign, students again monitored total idling time by cars and buses at the end of the school day. Across all six schools, idling was reduced by 40%, a huge improvement. Reed High School won the competition by reducing idling by an incredible 63%.
In the second year of the campaign, ACE's Director of Education Reb Anderson worked with ACE Action Fellows Alicia Wong, Kimberly Garcia and Oscar Garcia to bring Idle Free Schools to more schools throughout the region. ACE Fellows spoke about the environmental and health benefits of going idle free, brought educational materials and installed "Idle Free Zone" signs at school pick up and drop-off areas. In total, 18 schools in Washoe County became Idle Free. ACE Fellows also spoke before the Washoe County School District Board of Trustees in support of the Idle Free Policy. Following the Fellows' presentation, the Board of Trustees requested district staff to draft a full district-wide sustainability policy that would include an idle-free component. The creation of a district-wide sustainability policy wouldn't have been possible without the initial spark that was Idle Free Schools.
ACE Fellows worked closely with Julie Hunter, Senior Air Quality Specialist at AQMD. AQMD was instrumental in the creation and implementation of the campaign through close partnership as well as providing grant funding for Idle Free signs, stickers and flyers as well as working with WCSD staff and Safe Routes to Schools. Idle Free Schools is a component of AQMD's award-winning Keep It Clean program, a public education initiative to empower the public to make decisions that can improve their community, their health, and environment.
About AQMD
The Washoe County Health District Air Quality Management Division's mission is to find solutions to improve air quality for Reno, Sparks and Washoe County. They conduct air monitoring, permitting and enforcement and work to educate the public about the health impacts of air quality. By state and federal law, AQMD monitors ambient air quality data in Washoe County for pollutants deemed harmful by the U.S. Environmental Protection Agency (EPA). Data is monitored and collected to determine compliance with the National Ambient Air Quality Standards (NAAQS).
The AQMD has been working with ACE since 2013 to educate school district staff and students about the benefits of cleaner air through the Idle Free campaign.