Interview: ACE Alums at Brooklyn Youth Climate Summit
Rebecca Anderson
|
May 29, 2018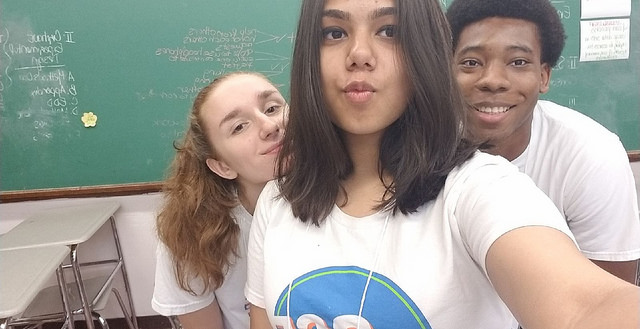 On May 20, ACE alums Aryaana Kahn, Lillian Davis-Bosch and Hakim Evans attended the Youth Climate Summit at the Kurt Hahn Expeditionary Learning School in Brooklyn, NY as part of ACE's partnership with The Wild Center's Convening Young Leaders for Climate Resilience NOAA project.
ACE followed up with them afterwards to hear how it went.
ACE: Describe what and where the event was and who was there.
Lillian: The event was a climate summit held at the Kurt Hahn School in Brooklyn. They partnered with a bunch of organizations like Outward Bound Schools, The Wild Center, and the Alliance for Climate Education. The day consisted a range of workshops around the topic of climate change. After lunch, there was a panel of youth that talked about their involvement in environmental work as well as taking question from the audience.
ACE: What was your role in the event?
Aryaana: During the first portion of the event, Hakim, Lillian, and I facilitated a workshop where we engaged participants in climate science and conversations about climate change through an image theater activity, Our Climate Our Future videos, and share-outs. All the facilitators, including me, had the essential role of making our participants feel heard and enlightening them on the challenges of understanding climate change in an accessible way. Afterward, we spoke at a panel where we answered various questions from a moderator as well as the audience about our activism work.
ACE: Had you ever led a workshop or spoken on a panel before?
Lillian: I have led several workshops before, one of which we did the same activities as this event. This was my first time being on a panel which was exciting.
ACE: Describe for us the workshop and how it went.
Aryaana: One of the parts of our workshop consisted of an image theater activity. Some participants were instructed to use their bodies to form a frozen image that visually represented the barriers that people face in driving forward climate solutions and being heard. The remainder of the room outside of the image observed the presented barriers, shared a bit about what they saw, and then added themselves to the image in a way that presented a solution. I helped drive that conversation between the participants while the other facilitators also allowed people to come up with creative ideas. The rest of the workshop worked in a similar manner as well where everyone engaged in discussion-based learning.
ACE: That sounds incredible. What did you talk about on the panel?
Lillian: We each did a quick introduction about ourselves, our activism work, and how we got involved in climate work. We also talked about the importance of youth in the climate movement and the challenges that we have faced as young people. There was also an opportunity at the end for the audience to ask questions.
ACE: What was the most interesting question the panel was asked?
Aryaana: Entire villages in my native country are wiped away every year by annual floods during the monsoon season, and since 2016, Bangladesh has also been housing an influx of Rohingya refugees that are particularly vulnerable to these climate impacts.
Aryaana: One of the audience members asked me if I had done any activism work for my native country, Bangladesh, as I had spoken a great deal about the parallels between my experiences there and in New York City throughout the panel. Over spring break, I actually visited the Rohingya refugee camps to interview some of the administrators, volunteers, and refugees there for a documentary (Check it out here.) that I later presented at my school, an art exhibit, and various other places. I hoped that shedding light on their stories would be an impetus for people to learn more about the challenges that frontline communities face. Climate change ultimately intersects with all the other issues that Bangladesh currently has to endure.
ACE: That documentary is amazing. Thanks for sharing it. What was the coolest thing about the day overall?
Lillian: I really enjoyed the panel. It was exciting to see how engaged all of the kids were. There were people who came up to us after and said how inspirational and amazing all the work that we have done is. It was really rewarding to hear those kind words and hopefully motivate other young people to do more activism.
Aryaana: The infectious enthusiasm of all the participants and everyone that showed up to the event was incredibly cool. The fact that a youth climate summit exists in the first place made me so happy and I was hopeful about the future of climate solutions after seeing people from all age groups actually show up on a rainy Saturday. The coolest thing about my day was definitely being surrounded by the people there.
ACE: How did you feel at the end of the day?
Lillian: The day left me with a lot of positivity and optimism. Whenever you are in a space filled with so much positivity and enthusiasm, it makes me optimistic for what the future will look like. It can sometimes be discouraging seeing the amount of issues in our world today, but this gives you the opportunity to have a sense of hope for the future.
Aryaana: I was beyond grateful for having the opportunity to be surrounded by such resilient, empathetic, and creative people throughout the event. Given how large of an issue climate change often feels like, it is often easy to become indifferent towards seeking solutions. However, being in an event where everyone tirelessly strives to break down the issue helps unpack that indifference; I was grateful for being in such a setting.
Lillian: To see all of those young people come out to learn about climate issues and solutions and then be eager to go and do something, it was inspiring.