Las Vegas Fellow Champions RenewNV Message
Sara Smith
|
February 24, 2017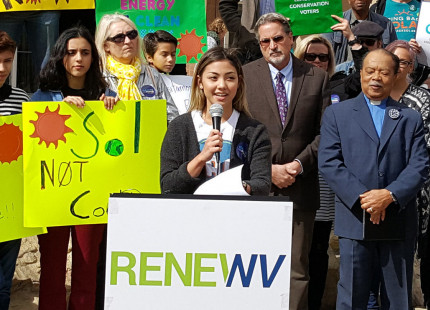 On Monday, February 20, ACE Fellows Sara Smith and Vincent Candelaria joined a group of clean energy activists at the Renew NV press conference. Renew NV, a partnership of Nevada organizations working to build and enhance the state's clean energy economy, called on state legislators to adopt a more aggressive Renewal Portfolio Standard. The group is pushing for 50% of Nevada's energy to come from renewables by 2030 and 80% by 2040. Fellow Sara Smith took the mic and put Nevada legislators on notice.
Hello, my name is Sara Smith. I am a 17-year-old student at West Career and Technical Academy in Las Vegas and I'm an Action Fellow with the Alliance for Climate Education.
Growing up I learned about authority. I learned that there is always someone you have to listen to, someone you have to obey, and restrictions you have to abide by. Whether it be a teacher in school, a parent at home, or rule to follow. I learned to always say yes and to believe that what I am told by the authority is true. But what I wasn't taught is that sometimes the authority is wrong.
We have the opportunity to gather energy from clean sources such as the sun, the earth and the wind, so why not take advantage of it?
A majority of our leaders treat climate change as if it is a hoax. They speak freely about clean energy jobs but avoid acknowledging how our dependence on fossil fuels is changing the climate. The planet I've inherited is damaged. I've lived in Nevada my entire life, and not once have I seen Lake Mead full: the only news I hear about it is how much lower the water gets each year. There will be animals I will never get to see, places I will never be able to visit because of the impacts of depletion of the environment. It saddens me knowing future generations may experience this, times ten.
As a young person in Nevada, I intend to live a long healthy life. I deserve clean air, food, and water. We all deserve it; these are human rights. I would prefer to live a lifetime with a stable climate, where the oceans are clear, where the air we breathe is healthy for our bodies. I would prefer a Nevada that welcomes innovation, clean energy jobs, and a vibrant economy that welcomes new businesses. These are the choices we are making today: choices between fossil fuel polluting energy sources or the clean air of the sun, the earth and the wind. We don't need fracking or coal mining or other air polluting sources of energy that cause asthma (something I suffered from when I was younger, which I hope to avoid in the future). We have the opportunity to gather energy from clean sources such as the sun, the earth and the wind, so why not take advantage of it?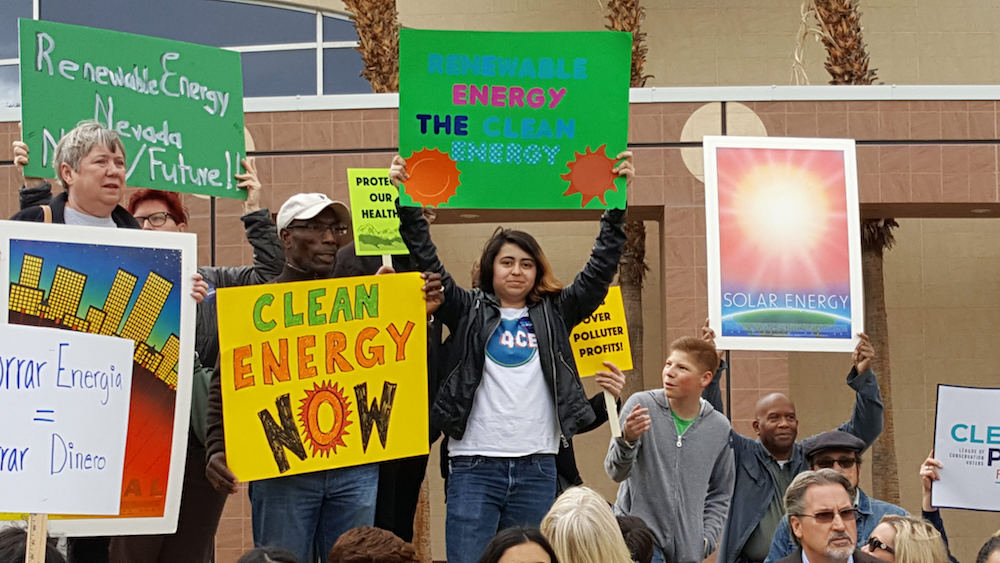 I want to live in a world where we don't have to wonder about the consequences our future generations will have to face.
I ask that our elected leaders, our community, no matter our age, seek 100% renewable energy in Nevada to make this earth a safe and healthy place for our youth, for our families, for the generations yet to come, and lastly, for the sustainability of the human race. Thank you.
Join

our Youth Action Network