NYC Youth Join UN for Climate Agreement Ratification
Maayan Cohen
|
September 30, 2016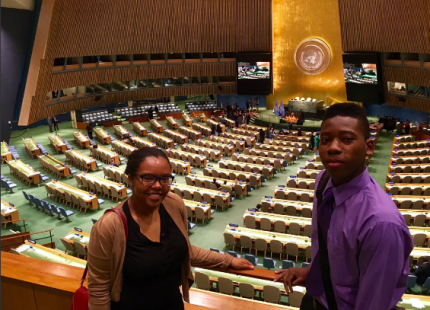 On September 21, 2016, in the midst of NYC Climate Week, ACE Fellows, Zora Hall and Hakim Evans, joined Presidents, Prime Ministers, and other world leaders at UN Headquarters in New York City for the UN Paris Climate Change Agreement Ratification Ceremony. Zora and Hakim were part of a historic moment as representatives for ACE and youth taking action on climate change around the world.
ACE will continue to support our Fellows to amplify the youth voice for climate action at the United Nations.
Zora and Hakim had the opportunity to speak with some of the world's premier climate change experts and activists in the UN's Sustainable Development Goals Media Zone. In a discussion with the UN Foundation's Chief Communications and Marketing Officer, Aaron Sherinian, Zora and Hakim shared what they hope to bring to the global fight climate action. "We want to make climate action cool," they said.
United Nations Secretary-General Ban Ki-moon hosted this special ratification event with world leaders in hopes of accelerating the ratification and implementation of the Paris Agreement. The Secretary-General stressed the importance of moving forward with the ratification process swiftly in his invitation letter to world leaders. "The next step in our collective journey to a low-carbon, climate-resilient future is to ensure the rapid entry into force of the Paris Agreement," he wrote. "Doing so will create incentives for early implementation of nationally determined contributions and build support within markets and societies for increased climate ambition."
Our students & @acespace fellows Hakim & Zora attended the @UN #ParisAgreement Ceremony, met w/@unfoundation & joined #SDGLive today! pic.twitter.com/nqvqKZkEdK

— NYC Public Schools (@NYCSchools) September 21, 2016
Formal ratification of the Paris Agreement requires at least 55 countries, accounting for 55 percent of global greenhouse gas emissions, to formally ratify it. The agreement would then enter into force 30 days later. By the conclusion of the meeting yesterday, 60 nations, accounting for 48% of global emissions had ratified the agreement, bringing it very close to formal ratification. In an exciting display of leadership by the United States and China, both nations have made public commitments to join the Paris Agreement this year.
From its inception at COP21 in Paris to its signing in April, ACE has worked to elevate the youth voice throughout the Paris Climate Agreement process. We were thrilled for Zora and Hakim to participate in the ratification event as civil society observers and to share the youth perspective on climate action. We will continue to support our Fellows to amplify the youth voice at the UN and we look forward to continuing to share the latest UN climate developents with our national youth network.
In case you missed it, you can view a recording of the day's proceedings on United Nations Web TV.