Fighting for the Common Good in the Commonwealth
Brian McDermott
|
August 24, 2016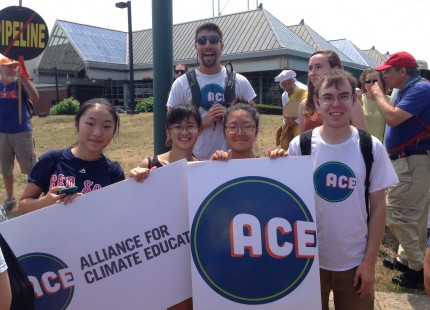 On August 17, 2016, the Massachusetts Supreme Judicial Court shot down a proposed pipeline tax that would have stuck ratepayers with the bill to construct a new natural gas pipeline. The ruling could effectively stop any new pipeline development in the state, marking a major victory for the tireless efforts of the People Over Pipelines coalition. Below is one student's account of a monumental march that sent a major statement to lawmakers just weeks before the ruling.
Picture this: You're an adviser to Massachusetts Governor Charlie Baker. You're going about your workday when suddenly, you hear hundreds of nearby voices growing louder and louder. You think they're just passing by, but the voices just keep getting louder. You look up and find a group of hundreds of people right in front of you. And the only way to make them leave is to give them what they want: an opportunity to be heard.
This was the culminating scene of a 43 mile march through almost a dozen communities in southeastern Massachusetts last month. The People Over Pipelines march united hundreds of Massachusetts residents who are standing up against the construction of fossil fuel infrastructure in their backyards. The goal of the march was to put a stop to the pipeline projects in communities that clearly don't want them. The marchers also took to the streets to demand a ban to the Baker administration's proposed pipeline tax, a measure that would add a fee to taxpayers' utility bills to fund future natural gas infrastructure projects.
Climate change is a problem we can only solve if we work together as one global community, prioritizing the common good over profit and competition.
I joined these protesters on the final day of the march and the follow-up rally at the State House the next morning. Though the march was primarily about policy, it was also a personal experience – an opportunity for learning, reflection, and growth.
My first day of the march was a seven-mile leg from the residential Boston neighborhood of West Roxbury to the State House in downtown. For me, it was the beginning of my journey. But for so many others, it was the the final stretch of four days of marching in the summer heat.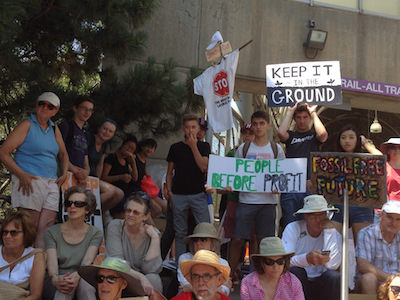 It became immediately clear to me that I wasn't just beginning my own experience, I was stepping into the middle of a collective experience shared with the rest of the marchers. I stood outside of a church early on Sunday morning with a small group of others waiting for a group of interfaith service participants to join us. As the service came to an end, dozens of people of all ages strolled out from the church one-by-one, singing in unison. They were not just energized physically, but spiritually and emotionally. Their singing wasn't just a sign of their individual power, it was a sign of the power that they had built together, the faith that they had in one another, and their confidence in their collective power.
As the marchers moved down neighborhood sidewalks, the march was building a connection with the city. Cars honked in support and residents offered thumbs up and smiles as we passed by. As the march pushed closer and closer to downtown Boston, more and more people saw the unexpected crowd of signs and chants.
When we pretend that rugged individualism alone is the best way to solve our problems, we ignore the urgency that we can only meet when the world comes together as a team.
We stopped for a brief rally and lunch at Ruggles Station, a large transportation hub just off the campus of Northeastern University. At the rally, we heard from informative and compelling figures, including a city councilor, a Philippino health expert, and an activist poet, among others. But from my perspective, the most exciting part of this rally was a speech from a 15-year-old named Daniel, an incoming ACE Action Fellow in the Greater Boston Area. Just a few weeks earlier, I had met Daniel for the first time when he told me that he wanted to speak at the rally. I offered him an outline and some talking points, but otherwise left the speech's content in his hands. Daniel was an experienced public speaker, but I had no clue what to expect from him.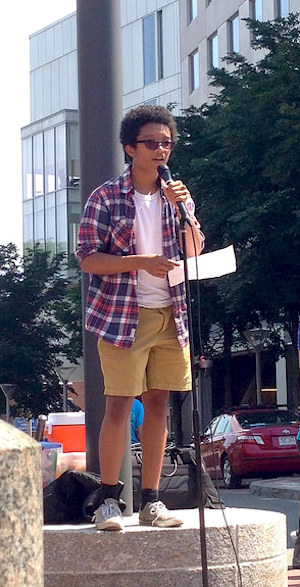 As it turned out, Daniel brilliantly articulated a deep connection between climate justice and racial justice in a way you might not expect from a high schooler. He explained the disproportionate impact that climate change has on people of color and pointed out the injustices of planned pipeline projects in Massachusetts. Offering a new youth voice, Daniel was informative, insightful, and well-spoken. In fact, he was so talented that among the countless people who came to congratulate him on a great speech was a PhD in Literature, who couldn't help but point out that he wrote and spoke with a sense of clarity and diction that she would expect from her college students.
We pushed on from Ruggles, moving from the sidewalks into the streets as we gained at least one hundred more people for the final push through downtown. We marched up to the State House for everyone in the city to see, holding a brief rally with all of us packed in front of the State House steps before holding a final rally a few blocks away centered in between some of the most important government offices in the state.
The next day, we all gathered back at the State House. Except this time, we went inside. Today was going to be the culmination of the 43 mile journey, the biggest statement. Nearly 300 Massachusetts residents packed the grand staircase of the building for a rally, raucously cheering activists and lawmakers who were bringing their message right to the halls of power, their voices echoing throughout the building. After the rally ended, dozens of participants split into large groups to lobby the offices of the Senate President and Speaker of the House to explicitly ban a proposed pipeline tax in the legislature's proposed omnibus energy legislation. As they left those offices, everyone gathered to travel to Governor Charlie Baker's office to send him the same message.
This is when hundreds of protesters crowded outside the governor's office.
Governor Baker's Deputy Chief of Staff stepped out to speak with some of the event's organizers. If he ever had any doubt about whether voters cared about a pipeline tax, it must have been lost in this moment. This wasn't just an angry letter or phone call, it was hundreds of physically-present active citizens who went out of their way to put themselves in front of this staffer. Presence is power. You can bet the governor heard about the incident later in the day.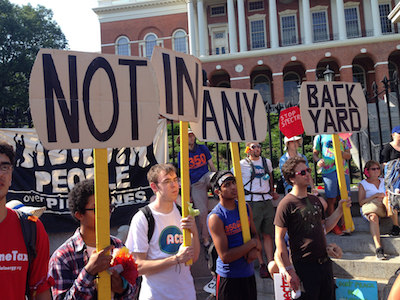 In every march and rally that I've been to, I've left with a new take-away, some kind of idea or reflection about the climate justice movement. But People Over Pipelines helped me look at the big picture. From the moment that I witnessed dozens of marchers singing in unison as they exited the church, to the cheers of support the crowd gave to Daniel as he took the microphone at the Ruggles rally, I saw a community coming to life among the marchers. Building unity and strong communities, not just within our movement but in our broader society, is key to achieving climate justice and to our overall vision for a better future.
Our movement is geared towards advancing policies, but I've now realized that it's just as much about promoting the values of community, common good, and unity. The climate justice movement must show us the values that can guide the world that we live in: not just what we are against, but what we are for. Yes, People Over Pipelines is about opposing pipelines, but it is just as much about emphasizing the importance of community and building the common good.
In his DNC speech earlier this summer, New Jersey Senator Cory Booker said on the topic of common good, "I respect and value the ideals of rugged individualism and self-reliance. But rugged individualism didn't defeat the British, it didn't get us to the moon, build our nation's highways, or map the human genome. We did that together."
Climate change is a problem we can only solve if we work together as one global community prioritizing the common good over profit and competition. When we pretend that rugged individualism alone is the best way to solve our problems, we ignore the urgency that we can only meet when the world comes together as a team, ready to work together to reach our goal. If we want the world to value community and the common good, then we must do the same in our everyday lives. We must call out divisive attitudes where we see them. Singing in unison and cheering for our friends may not be enough to stop climate change, but it's a start.