Get Loud: Action Fellows Petition VTA Board for Transit Justice
Ryan Condensa
|
April 15, 2016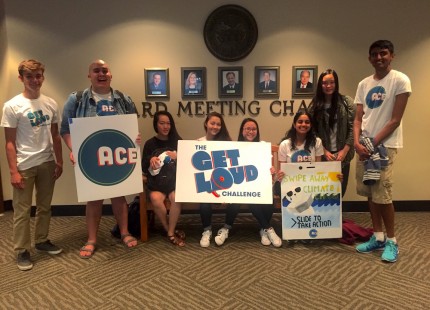 In partnership with the Transit Justice Alliance (TJA), TransForm and TRANSITion De Anza, Bay Area Fellows testified at the Santa Clara Valley Transportation Authority (VTA) Board Meeting on April 7, 2016  in support of a sales tax that could generate much needed funding for public transit in Silicon Valley.
The Alliance for Climate Education has taken the fight for climate justice to a new realm and has hit the ground running—or driving. According to the EPA, transportation accounts for 27% of U.S. greenhouse gas emissions, 43% of which comes from passenger cars, making automotive transit a leading contributor to climate change. Efforts are being made to reduce this output, like encouraging people to switch to hybrid or electric cars, or to walk or bike instead of driving, and to use public transportation as much as possible. The issue with relying on public transportation instead of passenger cars is the severe inadequacy of public transit systems in California, especially in the Bay Area and the Santa Clara County. Instead of investing in public transit and our future, we have developed a commuter culture that values the independence of having one's own car over the health of the environment and many people in current and future generations. As a result, our public transit systems have fallen into disarray.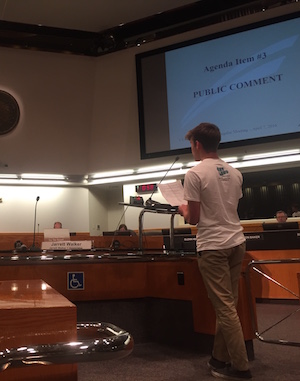 Climate change is a social issue in both its' causes and effects, disproportionately affecting certain groups of people. One such example of this is our dependence on cars for travel; the effects of this dependency fall squarely on those who rely on public transportation. Lower-income people who do not have access to cars spend an average of 25% of their income on transportation and this number could rise as increased bus fares, discontinued routes, and rising housing costs force people to relocate away from central city hubs and limit their access to public transportation.
With the hopes of making public transportation available for all people, especially those of low-income status, the Bay Area Action Fellows have partnered with the Transit Justice Alliance (TJA) as well as TRANSITion De Anza, in support of an upcoming sales tax that could raise nearly $6 billion in funds for transportation in the Santa Clara County over the next 30 years. Our goal is to direct $1.5 billion of this sum towards efforts to restore our public transportation systems, or at the very least return funding back to 2012 levels before budget cuts that occurred in that year. We want these transportation funds to focus on:
Increased affordability and accessibility for low income people, seniors, youth, and people with disabilities;
Affordable housing near transit hubs;
Safe streets for walking and biking;
And better bus service – in terms of frequency, speed, reliability and safety.
As part of the Get Loud Challenge, I had the opportunity to speak in front of the VTA Board to address this issue. As a youth advocate, there is nothing more important to me than making my voice heard, and this forum gave me the opportunity to remind the VTA that their decisions impact not only the businessmen, lawyers, and voting adults of the area, but also students like myself who can't yet voice their concerns through the polls. The decisions being made today will shape our tomorrows—the tomorrows that we will soon inherit. So by being active in our politics and our communities now, we can decide the world we wish to create. This is our future. Our needs. And we need a voice to ensure climate and transportation justice for all people of all generations.
Join

our Youth Action Network