Poetry in America: Why we need art for social change
Zena Zendejas
|
April 1, 2016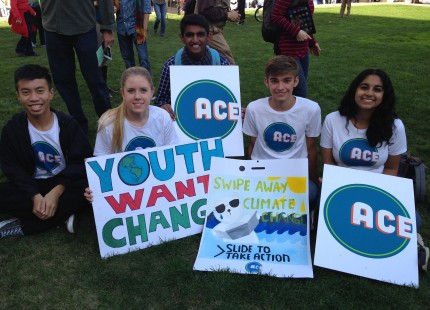 The setting is Ms. Falls' 12th grade English classroom in the Sunset District of San Francisco, CA. I'm facing a wall covered with signs that designate the space as safe for gender non-conforming and LGBTQ students. With a group of other adults, I sit in the corner of the room to quietly observe the poetry reading that will soon begin.
Don't worry, spiders,
I keep house
casually.
—Kobayashi Issa
We're all visiting as part of Poetry in America, an initiative created by Harvard Professor Elisa New, to bring poetry into mainstream culture and English Language Arts classrooms across the United States. I'm here on behalf of the Alliance for Climate Education (ACE)—but why would an environmental organization be part of bringing poetry readings into high school classrooms? What can poetry do for the environment?
Through poetry, students are drawn closer to the natural world.
Under the evening moon
That snail
Stripped to the waist.
—Kobayashi Issa
The environmental movement knows the importance of art. We've seen it during the People's Climate Movement and most recently in the streets of Paris at COP21. Artists are turning up for communities and creating works that call for global climate justice, and now it's time to turn our attention to local schools. Youth across the country are ready to make a move towards change; all we need to do is provide the space for their visions to flourish.
Words shape culture and express ideas. Words are our means of understanding the world and our place in it. Through poetry, students are drawn closer to the natural world. Undoubtedly, the power of language and poetry can be harnessed to connect students who don't have easy access to green spaces, to the beauty and importance of fighting for the environment.
How do we cultivate the ideas and voices of youth beyond the language of STEM? One way is to draw them in through poetry, art, and creativity.
The reading began with a series of haikus by Japanese poets Kobayahsi Issa, Matsuo Bashō, and Yosa Buson, translated from Japanese by Robert Hass. A question arose from the crowd: why was this reading focused on Japanese haikus and what is the connection between haikus and meditation? We turned our attention to a brief video, where Hass addressed the heart of my questions. The Japanese haiku provides "a powerful sense of a human place in the ritual and cyclical movement of the world, " Hass explained. Haikus often express subtle clues about natural seasons by drawing on simple examples and making poetry of the everyday.
The snow is melting
And the village is flooded
With children.
—Kobayashi Issa
According to the students in Ms. Falls' class, language is complex with different writing systems. However, shorter poems with less context leave space for the reader to imagine what they're reading. Another student mentioned that poetry makes you stop and think about what's being said. Like meditation, poetry gives you a moment to release the stresses of your day so you can continue forward with a clearer heart, walking mindfully. I think walking mindfully on this Earth is something most of us could use some help with.
A bee
Staggers out
Of the peony.
—Matsuo Bashō
After the reading, students responded to the following prompt: think about your own connection to the natural world; when do you feel most connected? For a few moments the only sounds in the room were those of pencils and pens against paper. Everyone was then asked to turn their writing into a haiku.
I dipped in a lake
beyond satellite reach,
humanities still
—Mike, a student in Ms. Falls' class
Haikus challenge the writer to construct words thoughtfully and arrange them on a page with a syllable count of 5, 7, 5.  Taking time to think in this nonstandard way opens us up to possibilities that may not be visible in scientific approaches. Elizabeth, a student in Ms. Falls' class, phrased it like this: "knowledge is a language with a personal bias, like a form of science. Science is a way to find knowledge by categorizing and sometimes we categorize before we understand its full potential. So we have to disconnect and reflect. By doing that we are able to find it's true meaning."
The knowledges and ideas we are taught to value are often themes students learn in the Science, Technology, Engineering, or Mathematics (STEM) curriculum. How do we cultivate the ideas and voices of youth beyond the language of STEM? One way is to draw them in through poetry, art, and creativity.  Solving the wicked problem that is climate change will require multiple approaches. Solutions come from the sciences, and also from artists, writers and poets, painters and muralists, who are ready to generate and willing to share.
Join

our Youth Action Network