ACE Fellow Keynotes Prestigious Bioneers Conference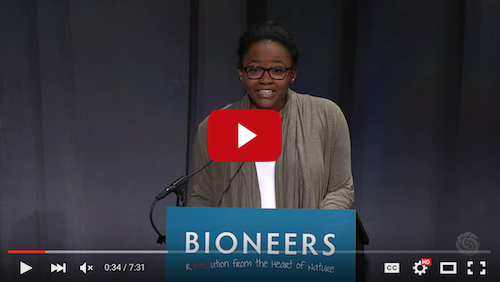 The annual Bioneers conference in San Rafael, California brings together innovators, artists, leaders and visionaries to solve the world's most pressing environmental and social challenges. This year, 17-year-old ACE Action Fellow Alumna, Jasmyn Mitchell, was among the keynote speakers. Jasmyn, a senior at Wellesley High School in Boston, was invited to share her story and perspective with over one thousand attendees.
Jasmyn was honored and thrilled, if not a little bit nervous, about the opportunity to travel across the country from her home in Boston to California to speak at a major conference. Over several months, Jasmyn worked on her speech with guidance from ACE. She reflected on the all-encompassing challenge that faces her generation: climate change. She put pen to paper to give voice to the very challenges that have inspired her to take action, air pollution and lack of access to healthy food in her neighborhood.
"We are cells in the muscles that are moving Together to make giant leaps for humankind."

— 17-year-old Jasmyn Mitchell at Bioneers
On Friday, October 16, 2015, Jasmyn (along with her Nana and me, her ACE mentor) boarded a plane for California for the first time. We drove through San Francisco and crossed the Golden Gate Bridge into Marin County, heading for the Marin County Fairgrounds. The setting was a mix of indoor and outdoor spaces–art galleries, food vendors, and big tents that served as hubs for youth and indigenous people at the conference. The main concert hall-like auditorium, where Jasmyn would speak on Sunday morning, held seats for several thousand people.
As the conference began on Friday night, Jasmyn professed that she had never before been around so many people who were passionate about creating change in the world, and really doing it! She expressed feeling affirmation to hear some of her own thoughts and ideas reflected in the other speakers. Afterall, great minds think alike, right?
On Sunday morning, it was finally time for Jasmyn to step into the spotlight. She proceeded into the green room where other keynote speakers waited before and immediately after they left the main stage. As a musical performance of drumming and storytelling went on before her, Jasmyn went to the make-up station, and then she was on! Taking the stage in front of over one thousand people, Jasmyn was in her element: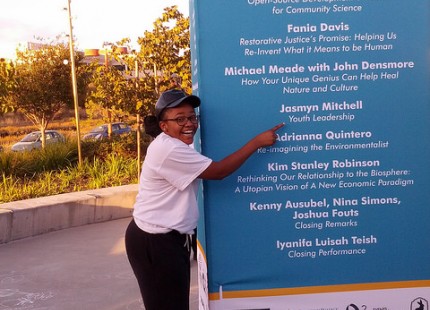 The experience of Bioneers challenged Jasmyn to literally travel out of her comfort zone, from Boston to California, where she encountered new ideas, and met new people. Jasmyn pushed herself to grow in new ways at the conference, learning how to speak in front of a large crowd and gaining confidence talking to strangers in one-on-one conversation. "We are all part of one movement," Jasmyn told the crowd. "The Movement of Humanity—a movement to eliminate racism, classism, socioeconomic unfairness, gender inequality, hunger, poverty, homelessness, preserve biodiversity, and stabilize the climate…We are cells in the muscles that are moving Together to make giant leaps for humankind."
Join

our Youth Action Network