Voices for Divestment!
ACE Staff
|
February 24, 2015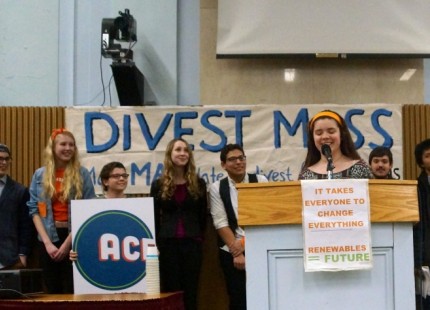 Divestment is the opposite of investment. It means removing our financial support from businesses that do not align with our values. This tactic was famously used to fight the apartheid regime of South Africa in the early 1990s.
Over the past three years the movement to divest from fossil fuels has picked up momentum, and nearly 200 cities, universities, churches and other institutions have gotten rid of their investments in fossil fuel companies.
On February 12, 2015, 450 actions took place in 60 countries around the world calling for divestment from fossil fuels. Students participating in the New England Action Fellowship entered the Massachusetts Statehouse, on Boston's Beacon Hill, with a purpose—to make Massachusetts the first state to divest from fossil fuels.
We heard from State Senator Ben Downing who introduced the Bill to Divest MA state pension funds. Financial experts attested that fossil fuels are a risky investment for the future, and taking our money out opens up opportunities to invest in climate and energy solutions. City councilors, business and community leaders, including ACE partner organizations 350MA, and Better Future Project all shared their reasons for supporting divestment. Divesting not only removes financial support, but it shows that people are not okay with corporations that profit by wrecking the planet.
ACE Action Fellows and our partners at the Boston Student Advisory Council represented the youth voice. Senior Action Fellow Kerry Brock, joined in solidarity by the rest of the Fellows, brought the audience to their feet with a passionate call to take action to preserve her generation's right to a habitable planet.
The Fellows came prepared, having studied up on the issue of divestment, as well as voting records of the members of the MA state legislature they were scheduled to meet that afternoon. For many it would be their first lobbying experience. Some admitted feeling a little intimidated walking into an office at the state capitol building to tell a legislator how you think they should be doing their job. But the Fellows held their own in the conversations with their representatives—making points and counterpoints to support their cause. They emerged feeling empowered—realizing that they can influence elected representatives and effect large-scale change. You can see a recap of the day here.
While Global Divestment Day may have been the first lobbying experience for some of the Fellows it will not be their last. The Action Fellows in New England will continue to work on divestment, growing support in their communities, engaging their representatives, and stepping into their power.
While we reduce our dependence on fossil fuels by biking instead of driving, practicing energy efficiency at home, and buying local food, at the same time institutions that represent us are investing our money in major fossil fuel companies. Has your town, city, church, or college divested from fossil fuels yet? If not, now is the time, and we are the people to do something about it!