Youth Lead the Charge on Passing Boston's Landmark Fossil Fuel Divestment Resolution
ACE Staff
|
January 7, 2015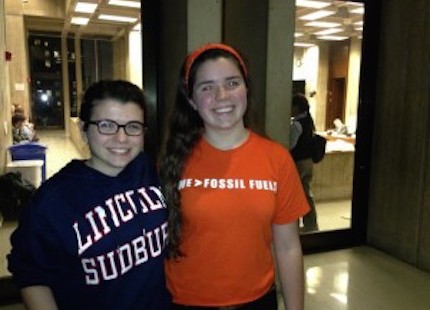 Youth in the city of Boston know that their future is on the line when it comes to climate change. They know that if we don't take bold actions today, their futures will be ravaged by droughts, floods, wildfires, extreme storms and injustice. However, youth today also know that by working together, they have the power to create a just and thriving future that they will be proud to live in.
On November 19, 2014, youth in Boston moved one step closer to realizing that future. After a sustained campaign, they convinced Boston's City Council to take a moral stand on climate change and pass a resolution calling on the Commonwealth of Massachusetts to divest all of its assets from fossil fuels.
What is divestment, you ask? Quite simply, divestment is the opposite of investment. It's the process of taking your investments out of stocks and industries that we know are bankrupting our future — like the fossil fuel industry — and investing in industries in line with our values, like renewable energy.
Entirely youth driven and led, a coalition of youth organizations came together to begin working on this initiative in early Fall. They did research and talked to experts, learning the ins and outs of city government and the power of divestment as a tactic. They met with City Councilors to convey their demands and strategize. And on November 17th, they partnered with Councilors Matt O'Malley and Michelle Wu to hold a city-wide hearing on Fossil Fuel divestment.
Thanks to the creativity, dedication and passion of the organizers involved, the hearing was standing room only and charged with an atmosphere of hope. Councilors heard testimony from the typical cadre of investment experts, government officials and community leaders, but far and away the most powerful testimony of the evening came from the panel of youth experts who convened the hearing, including testimony from ACE Senior Action Fellow, Kerry Brock.
The impact of the youth testimony on the City Councilors cannot be overstated. Listen to Kerry break it down for the elected officials present:
Just two days after Kerry's electrifying testimony and the testimony of countless other youth leaders, the City of Boston embraced its position as a historical leader and innovator, and passed one of the nation's first divestment resolutions from a large city. A huge victory for the climate movement, and a huge victory for youth!
An enormous thanks to the Boston Student Advisory Council for being lead organizers on this initiative, as well as Better Future Project, 350MA, Alternatives for Community & Environment, YouthCAN, The Food Project, SOCAN and the innumerable other youth organizations and allies who worked as part of this coalition. ACE and ACE's Action Fellows were proud to stand by your side during this campaign, and we look forward to continuing to push the divestment fight forward in 2015!