The Earth is Cleaner Than Us
Guest Blogger
|
November 22, 2013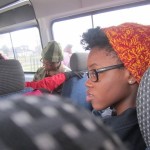 This is a guest blog post Makayla Comas. Makayla is a senior at Benjamin Banneker Academy in Brooklyn, NY. She is a passionate and outspoken leader on climate change as a human rights issue.
As world leaders convene in Warsaw, Poland to discuss the future of global climate change, I'm moved to think about how my trip to Chile last summer represents what is missing from COP 19—values. On Thursday, 132 countries walked out of the climate talks when the world's super powers refused to talk about the financial responsibility of supporting countries impacted by climate change. Well, they decided to wait to have the conversation in 2015. But in the course of one year, we've experienced Hurricane Sandy, once in a lifetime flooding in Colorado and raging wildfires in California. Climate change is loading the dice on extreme weather and we can't wait 2 more years to discuss loss and damage.
I remember when Molly from Global Kids first called me about the trip to Chile. It was during school, right before eight period and I had two minutes to get to class. When Molly asked if I had a minute to talk I said, "Sure." All she said was, "I got you an opportunity to go to Chile with Global Teens. Do you want to go?" When I asked if I can talk to my mother about it she said no, she needed an answer now. So I said yes. That was the best impulsive decision I have made in my life so far.
Months later, I was on my way to Temuco, Chile. As we drove to meet our Chilean hosts, our group leaders instructed us to close our eyes. One by one, we were blind folded and taken out of the van. We were guided to a grassy field and told to hold hands with one another. When we took off our blindfolds our hosts stood before us and began educating us.
"The earth is cleaner than us." My group stood in a circle with Chilean teenagers at the Temuco Conservation Park as Cesar, a Chilean YMCA leader, spoke about Mother Nature. Cesar instructed us to "always give back to the nature." Then he led us through a ritual where we put dirt on one another's faces as a symbol for respecting Mother Nature and our connection to the land.
Our Chilean hosts were loving people who valued living peacefully with the one another and the environment. But climate change threatens communities like Temuco; communities where the people who are least responsible for rising temperatures and value sustainability as a way of life are sadly an afterthought for some industrial nations represented at COP 19 this week.
When I got back to New York City, I could immediately tell that there was an environmental difference between Chile and America. New York City's air felt dirty. When I took a deep breath in, I choked. In Temuco, my lungs gladly soaked up the fresh air.
These differences got me thinking. From what I've seen, Chileans took and gave back to nature. Americans just take. Yes, there is a strong green movement and I'm a part of it, but we need our movement to transcend habits and practices and begin instilling a generational respect for the environment. This is why I'm working with my friends to get our ideas for climate education in NYC heard by New York City mayor elect, Bill de Blasio.
The children in Chile grow up learning to respect the environment. American children grow up learning that if there isn't a trashcan nearby, you can throw your trash on the ground. And American leaders can't agree to steer our world in a responsible, new and sustainable direction.
The time to act is now. The time to instill new values in the next generation is now.