ACE Alumna Chloe Maxmin Wins a Brower Youth Award
ACE Staff
|
October 30, 2013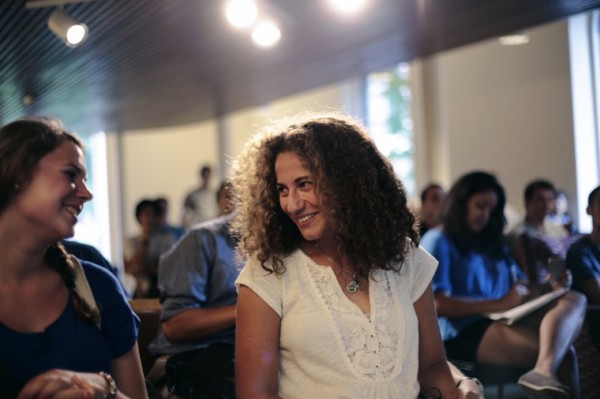 We are so proud to congratulate Chloe Maxmin, an ACE Alumna, for winning a Brower Youth Award for Environmental Leadership. Brower Youth Awards are given out to young people (ages 13 to 22) for extraordinary leadership on environmental issues. This year six young people were chosen.
I interviewed Chloe on how it felt to win the award and about her climate-organizing career thus far. Read on to hear the story of this incredible young leader.
How old are you? 
21
Where are you from?
Nobleboro, ME
I hear you won a Brower Youth Award this year. How does it feel to be recognized for your environmental achievements at such a young age? What were the first words out of your mouth when you learned about the award?
The first words out of my mouth were probably expletives. It is humbling to win this award, and it's exciting because the award provides an incredible platform. Since I first experienced the idea of "First Here, Then Everywhere" in high school (the idea that one person can make a difference and inspire others to do the same no matter where they're from or who they're with), I have been working to spread this message of youth empowerment.
When I started out as an activist, I had no idea what I was doing, and I didn't know that a youth climate movement existed. I stumbled my way into the light, but it took me a long time. I want to inspire and enable young change-makers to make a difference in their communities. Now I also want to spread the divestment narrative and showcase the power of this tactic. The award is a megaphone.
What or who inspired you to get started working on climate change?
I grew up on a farm in rural Maine. I have been surrounded by nature and animals my entire life. When I learned that Maine's North Woods were threatened by a development proposal, I took action.
When you think back on what's led you to this point in your climate-organizing career, what's the moment you're most proud of?
My work so far is in two parts: 1) starting the Climate Action Club in my rural Maine high school and 2) organizing with Divest Harvard. (Learn more about Harvard's Divestment campaign and Chloe's leadership in her blog post.) These two parts of my life are linked by "First Here, Then Everywhere."
With the Climate Action Club, the most incredible moment was watching our group on the Sundance Channel. We started out with small campaigns and big dreams. Our group grew because of dedication and passion. Next thing you know, we were on national television. That's "First Here, Then Everywhere."
With Divest Harvard, I am most proud of organizing the first referendum on fossil fuel divestment in the nation. We began the semester with 10 people in a room committed to divestment. Within 3 months, 72% of college students who voted in the election supported divestment. That's "First Hear, Then Everywhere" too.
What have been the most challenging moments in your climate organizing so far?
With the Climate Action Club, the most challenging moments were simply learning how to organize a campaign. We had roadblocks, confusion, and stumbles. But we figured it out in the end. I learned that being an activist means constant evolution–both of self and of campaign.
With Divest Harvard, the most challenging moments are balancing schoolwork and activism. I believe that education is essential, and I will never forsake the educational opportunities that I have. But I am passionate about organizing. I have learned how to ensure that my academics shape activism and that my activism shapes my academics. They're intertwined.
What were the most memorable moments at the Brower Youth Awards ceremony in CA?
Two parts are memorable. First, the other award winners are incredible people. Their dedication, passion, and authenticity deeply touched me. Second, the award ceremony was unforgettable. It was an invaluable opportunity to share ideas and spread "First Here, Then Everywhere." Also–we were able to choose the music that played when we finished our speech, and I picked "Leap of Faith" by Bruce Springsteen. When I heard his voice after I finished my speech, I was over the moon.
When you look forward to the next five years, what are you most excited about?
I am excited for how much our movement will grow! In the past year, the climate movement has shifted to become more inclusive and widespread than ever before. This trend will only continue and become stronger. I am excited for all the new leaders who are finding their voices, for the communities that will kick out the fossil fuel industry, and for collective solidarity that arises through the knowledge that we are all working for what we love.