DC-area Senior Preparing for PowerShift 2013
Leah Qusba
|
October 14, 2013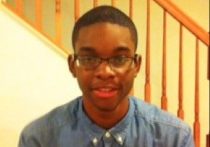 PowerShift 2013, the largest convergence of diverse, informed, climate-focused youth on the planet takes place October 18th, 2013. ACE is thrilled to be sending youth climate leaders from all over the country to this epic event to hone skills like organizing, campaigning and digital storytelling.
ACE believes that youth are essential to climate solutions that meet the urgency and magnitude of the problem. This often marginalized group is inherently the most connected, diverse, digitally-savvy generation ever to live.
ACE is working to elevate the voices of this generation through transformative leadership opportunities like PowerShift. ACE youth climate leaders bring a rich and diverse set of talents, skills and passions. From artists to makers, and innovators to musicians, these young people are leaving their mark on the movement in a fresh and unique way.
Anthony Fennel II is one of these remarkable youth leaders attending PowerShift on a full scholarship from ACE
Take a minute to read about Anthony's story:
"Hello my name is Anthony Fennell II. I am a down to earth kind of guy who enjoys having a lot of fun. I am currently a 12th grader at Gwynn Park High School located in Brandywine, MD. I am a respectful, responsible, dependable, determined, hard working and detail oriented student. As a student at Gwynn Park, I have been able to maintain at least a 3.5 GPA and above on a 4.0 scale.
I am currently a member of the Ecology Club along with the Student Government Association at Gwynn Park High School. I have held the position of Secretary for the class of 2014 for the past two years with the Student Government Association.
This is my first year being a member of the Ecology Club, and one of the primary responsibilities of this club is to maintain a school wide recycling program. I played baseball this past year for my school and I plan on playing again this school year. I am also a musician, I currently play the drums. I am a member of my Church Youth Group. I sing in the Church Youth Choir. I have also been an usher at my Church for the past 6 years. This past summer I lead my church Vacation Bible School each day. Throughout the years I have volunteered my time by working at a homeless shelter for women and children, and participating in back to school and Christmas toy drives. I was able to help the victims of Hurricane Sandy by donating coats for those who were in need.
I have also worked the past two summers. I worked as a Service Aide for Maryland Park & Planning in the summer of 2012 from July to August. As a Service Aide, I was responsible for enhancing the beauty of Area Maryland Parks. I put down mulch and gravel in various locations within several Maryland parks. I also sanded several canoe boats. I cut down trees and weeds, and I raked up leaves. I also painted various locations throughout the parks. While employed as a Service Aide I received several awards. This past summer I worked as a camp counselor at Brandywine Elementary school in Brandywine Maryland. I was responsible for watching over and protecting the kids at the camp. Along with watching over the kids, I also played several games with them as well, something they and I both really enjoyed. Overall it was a very fun and cool experience. I am really looking forward to this great opportunity that has been presented to me.
I believe that the PowerShift trip will be a great experience for me and will teach me more about how to improve our environment. At this conference I hope to learn how to better improve our environment for not only the present but for the future as well."
Join

our Youth Action Network