5 Questions for… Page May
Sophie Ostlund
|
August 1, 2013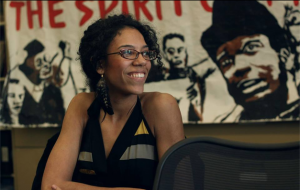 This post is part of a 10 part blog series to celebrate ACE's 5th birthday. We'll be asking ACE staff members to answer 5 questions about their time with the organization, including their favorite stories and some surprise facts about themselves. We'll profile a different staff member each day! 
ACE Staff Member: Page May
Position: Education and Media Manager (Chicago)
Q: What's the newspaper headline you'd like to read about ACE in 2020?
A: Millennial Generation Takes On Climate Change… and wins!!
Q: What was your proudest moment at ACE?
A: There's a few students that I've worked with over the past couple of years that have really made me proud. I love when students are able to bring their unique skills and creativity to the environmental movement. Seeing one of them, Saul from North-Grand, close the Project Greenway fashion show with his amazing eco-friendly gown was definitely a cool moment.
Q:What's your favorite part about working for ACE?
A: Feeling like I'm a part of something epic! I get to meet so many amazing young people taking on great projects and campaigns. I absolutely love figuring out how I can better support their work and help share their stories with a wider audience.
Q: It's no secret that we work hard, and put in some long days. What's your favorite (eco-themed, if possible) video you like to watch/song you listen to for a mid-day break/pump up session?
A: Kid President's pep talk… or any cat video.
Q: What's one thing your students and teachers don't know about you?
A: I have stage fright! But with an assembly as awesome as ACE's, I always have a good time presenting.
Thanks, Page! Tomorrow: We introduce AshEL Eldridge and hear what he has to say about his time at ACE.