Act Now Environmental Conference: Youth Move to the Beat of a New Future
Lonna Dawson
|
July 10, 2013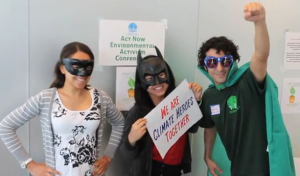 The Electric Slide. The Macarena. The Cupid Shuffle. And yes, The Wobble. The single greatest way to bring young people and older people together has always been through dance. It's the one time where the roles are reversed and a 15 year old wields their power to direct the every move of adult anxiously awaiting their approval–"Am I doing it right?"
The Act Now Environmental Activism Conference on June 6th was that choreographed movement of high school aged youth and adults coming together, all moving to the beat of a future that swag surfs on ocean-tide power.
High schools students and adults from all over NYC convened at CUNY School of Law to talk about climate change–the legislation that affects it and advances solutions,  and the knowledge to build resilience and the innate talents they bring to shaping a future that requires their innovation, creativity and leadership.
Join the movement: Check out the vid and tweet/ Instagram how you get down as  #ClimateHeroesTogether !