NYC Students Demand Green Roofs
Lonna Dawson
|
June 4, 2013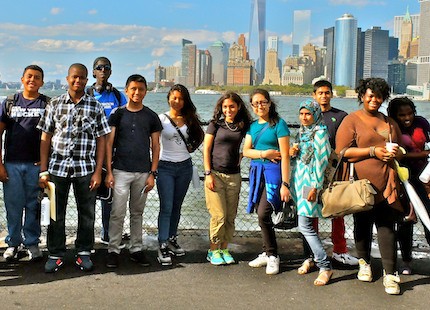 This is a guest blog from Samrit, a student at Curtis High School in Staten Island, NYC. She is one of hundreds of students attending the forthcoming Act Now: Environmental Activism Conference this week in NYC (hosted by ACE, CUNY Center for Urban Environmental Reform, City Growers and Global Kids). The conference is designed for young people to connect with environmental activists, educators and regulators to amplify their voices and push the needle toward solving climate change.  Samri will be there to advocate for green roofs on NYC public schools. Sign her petition here: https://www.change.org/petitions/green-roofs-on-new-york-city-public-schools
Why I Want Green Roofs on NYC Schools.
By Samrit, 15, Global Kids Leader, Staten Island, NY
Climate activism is important to me because I want justice for all people. We should not live in society where low-income communities or people of color are the most environmentally burdened. I am originally from Eritrea. Growing up in a country surrounded by famine and limited resources makes me want to see a change in how we live our daily lives here in the United States.  I want to see influential and powerful countries like the United States cease their dependence on fossil fuels and evolve to green technology.
Our Global Kids campaign petitioning to put green roofs on public schools in an equitable way is a great place to start. With green roofs, the amount of air pollution decreases, helping communities with high asthma rates. Green roofs are also another way to create green jobs and strengthen the economy. Green roofs on schools would also allow science classes to have hands-on education.
Environmental solutions like green roofs make an imprint on a young person's mind and teach about not just the problem of climate change, but also solutions that we can create together. Green roofs on schools can play a role in teaching climate education and help kids grow up to be environmentally conscious. Kids grow up depicting heroes as policemen and firefighters. I also want kids to grow up being climate heroes, which green roofs on our schools will help make happen.