Transition Time
ACE Alumni
|
May 24, 2012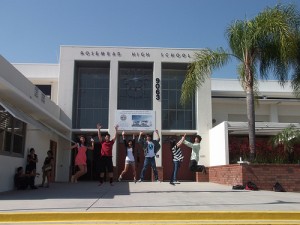 This is a guest post from ACE Alumna Chloe who is currently finishing up her first year at Harvard. 
Summer has begun, is beginning, or is right around the corner for students all over the country. Now we are off to partake in various activities around the world. As we depart from school, what will happen to all of the movements, campaigns, and projects that we worked on all year as members of student groups? Will the momentum die? What happens if your leader is (or will be) a senior? How is knowledge transferred to the rest of the group members?
I've faced this situation a couple of times, and I wanted to pass on some of the lessons that I have learned when it comes to transition time.
As leaders:
1) Graduating Seniors: Make a list of all contacts and networks that you utilize throughout the year.
• Meet with younger group members to pass on this information and any other lessons/tips that you have learned throughout the year.
2) Rising Seniors: Try and take a back-seat role in projects. Be a mentor.
• Let underclass-people step-up so they can learn how to run different campaigns, but be there to support them.
3) Non-graduating members: ask your leader lots and lots of questions about how to do certain organizational tasks (like handling money, working with administration, etc…), network, publicize, communicate, organize, etc… So that you can lead the group when older members graduate.
As an organization:
1) The more organizing and planning that you do in the Spring, the easier it will be to hit the ground running in the fall.
2) Before the school year ends, brainstorm two or three possible projects for the fall.
3) Make a plan for how your group will reconnoiter and reorganize in the fall.
• Who will lead? What roles will there be?
4) Think about how you will recruit new freshpeople and spread the word about your group.
5) Keep in touch over the summer! Start an email list or Google Doc. Send around ideas that you have, keep websites/social media updated, and continue to stay in touch with other organizations, groups, or individuals that you work with.
6) Try and do some work over the summer that is related to your extracurricular interests. Gain some experiences and learn some lessons that you can apply to your work when you get back to school.
7) But most of all: ENJOY! Have a wonderful relaxing summer. Stay involved, but don't get stressed out. It is summer after all!
8) Since the end of the year is coming, maybe you could write about how to successfully transition an Action Team from one year to another. What keeps the momentum going over the summer with vacations? How do you choose leadership that will continue on? How do you prep younger students for taking over, etc?