Say "NO" to Fracking North Carolina
Gaby Berkman
|
April 4, 2012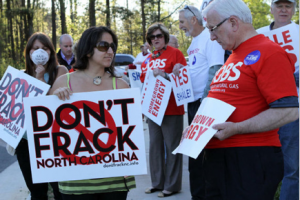 This is a guest post by North Carolina Youth Rep Natasha. 
Picture this outside of your high school. Fifty protesters standing on the right side of the sidewalk, carrying large professional looking signs with phrases such as "Shale = Jobs".  These pro-frackers, many of whom were bused in & paid by fracking companies, are an intimidating bunch. But on the other side are even more people carrying homemade signs such as "Get the frack out of my water". These community members, many of whom took time from their busy lives to protest here, make me proud to be a North Carolinian. On Tuesday March, 27 2012 there were over a hundred people waiting in line to give a public comment against fracking in North Carolina during the Public Hearing at East Chapel Hill High.
While waiting in line to enter the hearing, which was being held in my school's auditorium, I met some very interesting people. One man I talked to travelled over five hours from West Virginia to support his friends here.  A college student spoke to me about her views. I even met a student who goes to my high school that I never knew! We were a mixed bunch: students, teachers, adults, grandmothers, and scholars. We came from all over: Alamance, Wake, Durham, Orange counties, and even Dimock, Pennsylvania. An outsider would say we have nothing common. Normally, I'd agree, except today we're all fighting to keep our water clean and our environment beautiful.
The hearing started with a short presentation from North Carolina Department of Environment and Natural Resources. There was a buzz in the audience over the words "report underfunded" , "human health not considered", and "only two rigs built in 1994 studied". Then came the conclusion of the report: "NC should go ahead with fracking". That caused the biggest stir of them all.
The highlights of the event came during the two hours of public comment that followed. Comments that included "The Singing Grandmas" and "Boo-ed Lou". At moments, the audience was heated up and tensed, like when the chamber of commerce advocated the economic benefits of fracking. The hilarious video of the Raging Grannies' performance would later be spread around my school like wildfire. Some comments were also very informative. One scientist from Dimock, PA gave a condensed list of reasons why fracking harms the environment and society. When he informed DENR that he'd be sending them his own research and findings in an online comment, he was met with wild applause.
This was certainly an empowering event. Humorous, passionate, and informative; I wish I could have stayed until the very end. My chemistry teacher kept a count and said that there were around 5 comments for fracking and upwards of 40 against fracking. There was a real sense of fellowship. It pleased me to know so many people care about our environment. After all, fracking pollutes our drinking water, destroys our land, brings severe noise pollution from the influx of truckers, releases large amounts of the greenhouse gas methane, and barely boosts the economy.
On May 1st the NC Department of Natural Resources will present all public comments submitted oral & written, including mine, to the NC General Assembly. It's in their hands to decide the fate of fracking in North Carolina. I hope they will listen to their constituents commenting "No" to fracking NC.