Start Talking Trash
Katy Broker-Bullick
|
December 16, 2011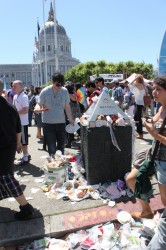 This is a guest post by Katy Broker-Bullick, the Lead Environmental Intern at Chabot Space and Science Center, where she runs their Zero Waste Lunch program, grows their organic garden, and hounds Chabot staff and visitors to get involved by starting to do something—anything!—green. These days her green activities include carpooling with her coworkers, eating less meat, shopping vintage and local when she can afford to shop at all, and making lots of recycled art.
Howdy from the staff at Chabot Space & Science Center in the Oakland Hills! Chabot works to encourage students to actively address climate issues within the Bay Area community. We drop by ACE occasionally to share some interesting facts, zany stories, and conversations regarding climate change and how it all relates to you!
I had an 11-year-old girl shake my hand today. "I think it is so good what you're doing. SO, SO GOOD. You're SO… COOL!"
Then she shook my hand again. Twice. I was working the Zero Waste Lunch station. I was wearing a yellow apron with giddy grinning green frogs waving red flags that said "Go green!" all over it. I WAS cool.
Does your family talk trash? They should. I remember the only time my mom ever talked to me about trash. It was before my senior year of high school, and I had a crush on an adorable boy in my class, and we hung out one night— just politely watching a movie, no hanky panky- and the next morning, what did my mom say? She said my behavior was… you guessed it: trashy. I was SO not trashy. I was president of the Spanish club, the volunteer service club, the Media club. I was an academic. Also known as a nerd. Anyway, that's the only time my family ever talked about trash. But now I talk trash at my job, all day long.
This is what I'm talking about. Total recycling fail.
This is the Gay Pride Celebration this past year in San Francisco. San Francisco supposdly leads the progressive waste revolution in our country. But according to the New York Times, Americans are still the undisputed champions of trash, dumping 4.6 pounds per person, per day.
Someday your story might lead to trash. Mine did.
Let's fast forward through ten years of post high school livin': I graduated from college, where I studied agricultural journalism, natural resource management, international relations and started to learn more about the details of global warming. I traveled the world. And my interest in social justice and environmental issues led to all sorts of cool jobs. Cool jobs like this one: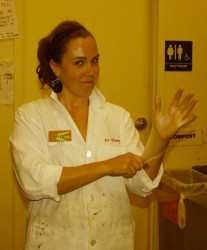 Okay, so this one wasn't an amazing job, but it was a good post-college gig. I worked at a grocery co-op in Seattle that's a leading proponent of local, sustainable food and farm preservation. I became a recycling fool.
I also farmed in Alaska. Which taught me a lot about global food security issues. And: everything you could possibly want to know about composting. I LOVE composting.But the point of sharing all this with you is to logically arrive at the fantastic job I now have: I sort trash.
You're probably thinking, this girl has a college education. Why in her right mind would she ever choose to be a janitor? I'm not a janitor.
As Lead Environmental Intern at Chabot Space and Science Center, I work on sustainability initiatives at the museum, and one of our programs is called Zero Waste Lunch. I love my trashy job a lot.
Before we started our Zero Waste Lunch program, here was the breakdown of how people sorted their waste: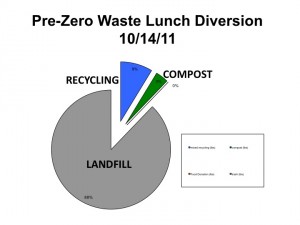 My mediocore chart-making skills aside, you can see most people generally favor landfills. That's because it's one thing to talk about global warming, and it's another thing all together to take action to stop it! And we can't make better choices if we don't know they exist.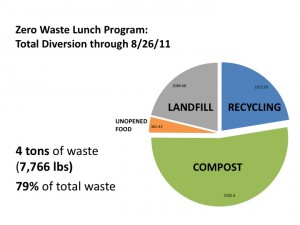 Then, we high-five our awesomeness:
But why tackle trash?
Here's the deal: in 2009, the EPA reported that landfills alone emitted 17% of all human- produced methane in our country. Methane, a greenhouse gas, is 25 TIMES MORE POTENT THAN CARBON DIOXIDE, according to NASA studies.
So methane's kind of a big deal. Just how big? Read this article I stumbled upon today—eek!
Here's another thing that's kind of a big deal: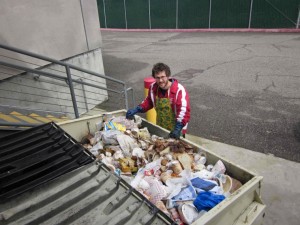 That's my friend and fellow intern Andrew, proudly grimacing in front of our smelly compostdumpster at Chabot. A large number of our visitors are surprised that all food scraps and all paper can be composted, and frequently make up over 60% of our cafeteria waste! That's a lot of food going into the landfill normally, without us.
These kinds of simple actions around climate change can get you places. It got Davis student Andre Almeida into the newspaper for the local landfill bench-building project he recently spearheaded at his school, Da Vinci High.
At Chabot we're starting small, with conversations, and by sorting one item at a time. But all those cans, bottles, plastics, foils, baggies, food scraps, papers, and biodegradable utensils we keep out of the landfill—they add up.
I'll leave you with a great quotation I read the other day, spoken by Naomi Klein:
"Climate change is not the story of our time. Climate change is a subset of the story of our time, which is that we are coming of age on a finite planet and only just now recognizing that it is finite."
For me, waste diversion is at the heart of environmentalism. When I talk trash at Chabot and people begin to learn more about our current make-take-waste system, they discover the truly finite nature of our planet, and they get motivated to change their behavior.
They start talking trash. So should you!