Climate Ride California
Gaby Berkman
|
September 13, 2011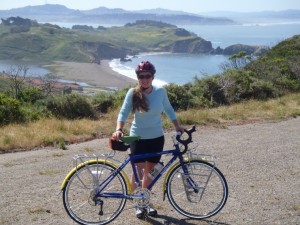 This is a guest post by Casey, an environmental educator who lives and works in the Bay Area.
Bicycles alone won't cure us from fossil fuel dependence, but they are an important part of the solution. Choosing to ride a bike is an action we can take right away—today, tomorrow, perhaps you rode one yesterday. We don't need to wait for technological advances or the consumer market to make it affordable; the bicycle is already an accessible tool for curbing our carbon appetite.
My name is Casey. I live in the Bay Area, and am setting out to prove this point by participating in the Climate Ride California in October. I'll be joining more than 100 other riders on a challenge to cycle over 320 miles from Fortuna to San Francisco in just five days. Am I freaked? Definitely! But I know it will be worth the effort. I'll be gaining inspiration, confidence, and skills to live a low-carbon lifestyle with each day that I ride. I'll learn about solutions from expert speakers every night. And most significantly, I'll be supporting ACE with every dollar that I raise in conjunction with awesome event.
Much like the bicycle, climate science education is a straightforward, but under-utilized, resource in creating positive change. That's why the work that ACE is doing to empower young adults to be informed climate activists is so essential. As a Bay Area environmental educator who teaches climate science to her students, I'm psyched to be representing ACE and hope you'll follow along as I take on the Climate Ride.
My DOT? Ride my bike, everyday.
To help me reach my fundraising goal by September 23rd, please visit: http://climateride.donordrive.com/participant/casey
To learn more about the Climate Ride, check out: www.climateride.org
Join

our Youth Action Network