ACE wins Clean Air Award
ACE Students
|
April 21, 2011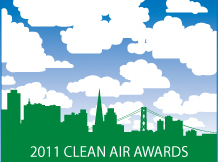 On April 15, ACE was honored to accept a Clean Air Award from Breathe California for its efforts in Public Awareness and Education.
We won the award for "successfully communicating an intangible scientific issue, climate change, to high school students, and motivating them to take action to reduce greenhouse gases by joining Action Teams at their schools." The reach of our programs across the country was also noted in their statement.
At the awards banquet last Friday, I was struck by how this award highlights the connection between health and environment issues that resonate with Americans – like asthma and air quality – and the overarching issue at hand: climate change. Climate change is not always visible, and all of its impacts may not be felt today, but Breathe California and others recognize how climate change has the capacity to be a very personal issue as it affects human health and our immediate environment.
Recognition from Breathe CA means a lot to us as the award recognizes exactly what we aim to achieve: explain climate change in a way that makes it personal, immediate and tangible.
Thank you so much Breathe California, and everyone out there that has been receptive of our programs since we launched in 2009.