Colorado students speak up for climate action
ACE Alumni
|
December 15, 2010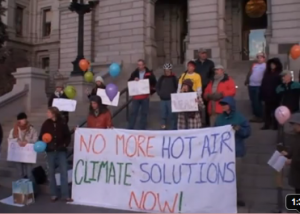 On December 1st, citizens of Colorado gathered on the steps of the Denver Capital as a part of a national day of action. There, people from all walks of life called upon world leaders to take action on climate change at the United Nations Convention on Climate Change (COP 16).
Micah Parkin 1Sky Colorado Regional Organizer explains, "Specifically we want the President to keep commitments made last year in terms of carbon pollution reduction and climate finance for developing countries' mitigation and adaptation efforts. I think it's really important right now to set the right tone with the newly elected leaders (local, state and national) and show them their constituents care about these issues so they feel compelled to do the right thing when it comes to decisions on climate change and clean energy."
Alex Budd, a senior at Fairview High School in Boulder, Colorado spoke to invigorate hope and action in Colorado citizens.
Alex is a young Boulderite by birth and was one of the youngest presenters trained by Al Gore's Climate Project in 2007. Since then he has been involved in various organizations and campaigns in the Boulder area and now helps run the Lorax; Fairview High School's environmental organization.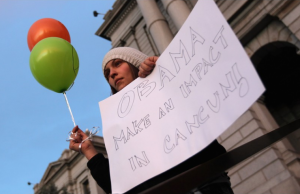 Alex explained to the rally:
No it won't be easy.
Everyday we hesitate and fail to act is a day lost and the consequences grow continually more severe. We need action now. Not tomorrow, but tonight. You've heard from plenty of people already this evening about the impacts we're already feeling from runaway climate change; melting ice, heat waves, more intense weather.
You've heard how climate change is disproportionally affecting the developing world. You've heard how it's disproportionally affecting low-income groups here in the U.S. As terrible as all of this is, it is not why we need action.
Ultimately, this is about the future, and the generations from who we've borrowed the earth. It's about acknowledging that as the dominant species on the planet, we have an undeniable responsibility to preserve the world for those yet unborn.
The future of our generation and those to follow are on the line, and we NEED our leaders to realize and uphold their responsibility to protect us from the catastrophic impacts of climate change. As bad as things are getting now, failing to change our course now—RIGHT NOW—will leave us and those who come after us, to bear the true burden.
This issue is much too big to bicker about; those who can act, must do so. As the world's 2nd largest carbon emitter—and historically the 1st—we, as a nation, must show leadership on the world stage.
The Colorado rally and those that took place across the nation hope to spark action amongst our leaders at COP 16 and raise awareness within our communities that we need to take action on climate change.
Through actions like these we can gain greater support for climate initiatives and have a national and global impact. Time and time again, history has shown that young people raising their voice will spark large-scale change.
Join

our Youth Action Network