Clean energy made in America: Cape Wind
ACE Students
|
April 29, 2010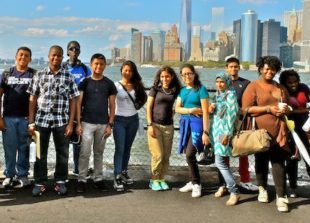 Even if you don't live in New England, chances are you've heard of the epic story of "Cape Wind." From rampant NIMBY-ism (Not In My Backyard), to emotional court battles involving tribal lands, the proposed wind farm a few miles off of the shore of Nantucket, Massachusetts, has been one of — if not the — most contentious domestic clean energy proposals!
The heated court battle surrounding the parameters for Cape Wind has been going on for over 8 years — we're talking since the beginning of the millenium! Earlier this year, it seemed like Cape Wind would fade as nothing more than a passing idea for clean energy as obstacles mounted.
Two Indian tribes, some environmentalists and residents of Cape Cod and Nantucket strongly opposed the project and have helped keep Cape Wind in litigation limbo. The windmills would be visible from land (about 2 inches or so on the horizon-max) and many residents were upset that their ocean view would be marred, including the late Sen. Kennedy. Indian tribes objected to the disruption of their ritual view of the sunrise – which came under more recent controversy – and sacred rituals as well as long-submerged burial sites.
As the legal papers grew into a small forest of opposition, it seemed Cape Wind was doomed. All of this changed, yesterday, with the sweep of a pen on one more piece of paper from the Obama Administration. Now, the shores of Nantucket may look more like this: 130 windmills, 440 feet tall, rising from the ocean a few miles off Cape Cod, MA.
"The windmills would be about five miles off Cape Cod at their closest point to land and 14 miles off Nantucket at the greatest distance. According to simulations done for Cape Wind, on a clear day the turbines would look as if they were about a half-inch tall on the horizon at the nearest point and appear as specks from Nantucket," reported Jay Lindsay of AP.
Cape Wind will be our country's first offshore wind farm. With our climate bill completely up in the air, it's comforting to know we're still making progress toward a cleaner, safer future — even if it's incremental.
I feel proud of our country for making clean energy at home in America, despite the opposition, and of the Department of the Interior for stepping up to the plate and batting for our future.
What's your reaction? What does Cape Wind mean for you? Share in the comments below!