Zero Waste Challenge Endures
ACE Alumni
|
April 27, 2010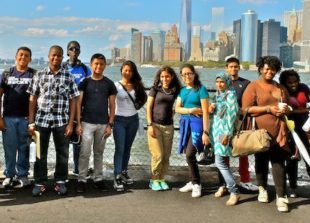 One Man. One Month. Zero Waste.
Well, that used to be the mantra, but since I've started, other's have picked up… and for good reason – it's not fun going it alone.
April is the third installment of the Zero Waste Challenge, but it is no easier… in fact, I think it may be getting harder. Why? Because the weather is so beautiful and I want to go picnicking and adventuring, but I need to keep planning ahead with tupperware and cloth napkins, a reusable watter bottle and no-package food.
Now, I've done a terrible job of blogging the March Challenge, but it wasn't without success – a number of students in high schools around California became hip to the idea and some have even taken the challenge (keep a lookout for a blog post from a Sacramento student coming soon!)
The April challenge is also in solidarity with the lead singer of a spectacular band – Dan Nigro of As Tall As Lions. He's taken the Zero Waste Challenge on tour, which I think is WAY MORE AMBITIOUS than anything I've ever done to reduce garbage. And he's also inspired the band to choose a DOT – Do One Thing – to help the environment and cool the climate. As a band, they've kicked the disposable bottle habit and are carrying reusable water bottles!
More zero waste blogging coming soon – if you want to take the challenge, just email me and let me know!