Student carries climate message to Arkansas officials
ACE Alumni
|
April 26, 2010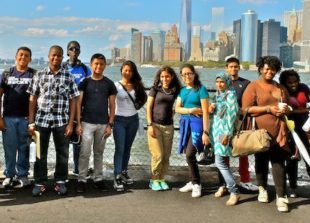 This past Earth week, our educators spoke to over 42,000 students — an astonishing number — and Faith Mullins of Arkansas delivered an important message to her government officials.
On April 22, Faith Mullins – Mayor's Youth Council member and Central High School student – delivered signatures on the ACE Declaration of Independence from Fossil Fuels, written by our youth leader, Alec Loorz, to Senator Blanche Lincoln's office.
Afterward, she was the only young person to speak at a big rally with our friends at Repower America in Little Rock. Here's what she had to say:
**********
My name is Faith Mullins and I am a sophomore at Little Rock Central High School. I am a normal teenager who enjoys gossip about the latest trends and celebrities. But I, unlike most teenagers, have chosen a passion. My passion is our planet. Now, I'm not a crazy, radical person that demands everything to be environmentally friendly. I am an intelligent young women who knows right from wrong and I know right is that if we do not begin to solve for water pollution, climate change, mass species extinction, and overpopulation then we will not survive much longer.
It is my generations' responsibility to change the path of destruction that we are on, and we all know this. But what it comes down to is, is someone willing to stand up and fight for our planet?
Because it takes one voice to start a revolution. Mahatma Gandhi was one voice who listened to his country mans needs and he preached nonviolence as a way to go about creating change. He defied the odds and ensured the freedom and independence of India using his voice. This one voice liberated a country. Imagine what a hundred or a thousand or even a million voices could achieve. We could achieve freedom of our planet from our destruction and our independence from fossil fuels.
Our planet has been speaking to us. Her global ice caps are melting, her deserts are growing and her species are dying. But we have failed to listen. We can no longer afford to ignore her pleas. We must stand up and be her voice, else we afford to loose everything. But that one voice has not sufficiently been raised. So I choose to be that one voice leading a thousand voices to start a revolution to save our planet.
Politicians raise their voices every day. It is time for us to raise our voices to influence our politicians and demand that our planet is heard.
I start raising my voice today as I deliver a signed Declaration of Independence from Fossil Fuels to Senators Lincoln and Pryor.
So I ask you, are you ready to join in the Earth Day Revolution by adding your voice?
**********
If you are, check out this new Earth Day Revolution video – sign and pass it on to your friends!