Transformers!
Lonna Dawson
|
March 22, 2010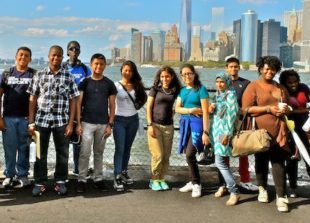 Mrs. Orr's Environmental Science class at Jonesboro High School in Jonesboro, GA was assigned the task of transforming a typically discarded item into a reusable product. At the end of it all, they found they gave recycled a whole new meaning! See what I mean:
Here I am adorning a cool couture sling bag made completely out of plastic bags!
Another student, took an old pair of jeans and made a posh purse. There was even an ingenious insect made totally from used metal parts and an airplane constructed out of a soda can.
Mrs. Orr was really proud of the results the assignment yielded; so much so that she and her students intend to sell their recycled riches and use the money to support future sustainability projects. Going green never looked so good!