On World Water Day – Watch the Story of Bottled Water! Just released!
ACE Alumni
|
March 22, 2010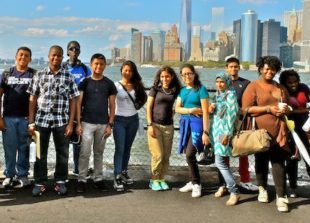 Check it out — one of our partner organizations running an awesome campaign called Think Outside the Bottle just released an amazing new animated short called The Story of Bottled Water.  If you like the ACE presentation, you'll love this… it was created by our creative partner, Free Range Studios.
Take 7 minutes to watch this video today – learn about the bottled water industry, and choose a DOT to kick the bottled water habit today!
Here's a bit of info about the video short:
A new animated short The Story of Bottled Water tells the story of manufactured demand, specifically how you get Americans to buy more than half a billion bottles of water every week when they can get it almost free from a tap.
Over seven minutes, the film explores the bottled water industry's attacks on tap water safety and its use of seductive, environmental-themed marketing to cover up the mountains of plastic waste it produces. The film concludes with a call for viewers to make a personal commitment to avoid bottled water and support public investment in clean, available tap water for all.
The Story of Bottled Water is being released on World Water Day, an annual UN-sponsored day of action to support access to clean, safe water for the world's people. Globally, more than 1 billion have little choice but to use potentially harmful sources of water, leading to what the World Health Organization calls "a silent humanitarian crisis." Meanwhile, many Americans, who generally have access to safe and abundant water from the kitchen tap, drink bottled water despite the enormous waste of money, energy and resources it represents.