Helping Beantown Become Greentown!
ACE STAFF
|
February 22, 2010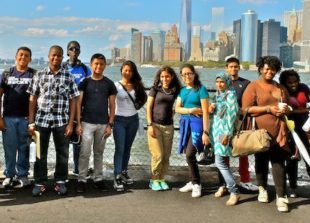 The Youth Climate Action Network (YouthCAN) at Boston Latin School (BLS) is doing one of the coolest projects I've seen yet! They're installing a sweet green roof on their school, plus they're working with teachers in the area to develop curriculum + share the project with students around Boston.
I got to interview the students to learn more about how they're doing the project:
Read on to learn more about the project from Rebecca Park, BLS sophomore and a leader in YouthCAN. Be sure to check out the video BLS produced!
"We, The BLS YouthCAN are working to bring a 'Sustainable Roofscape Learning Lab' to our school's roof. Complete with two outdoor classrooms, a greenhouse with food for the cafeteria, solar panels, wind turbines, and more, the project is also part of our Massachusetts Education for Sustainability Campaign, which seeks to require sustainability education in schools across the state.
This summer, we're hosting a professional development course where teachers will make curriculum for a pilot at BLS next year… BLS Youth CAN is partnering with local organizations, high schools, and colleges to bring green roofs and sustainability education to institutions… we feel that involving and giving back to our community is important. That's what's at the heart of the environmental movement."
BLS YouthCAN recently made in on NBC7 in Boston for their work!!
To see even more footage (including that awesome 3D view of the roof), click here!