Clean Energy Now! Bus Tour
ACE Alumni
|
February 22, 2010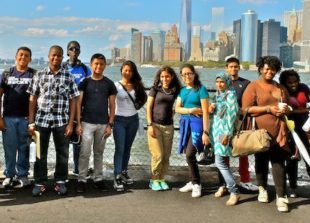 I'm so inspired by the bus tour that our partner organizations, Repower America and the Hip Hop Caucus, are kicking off on the East Coast. You can follow them throughout their journey, read more on their blog, and catch photos through flickr. Check out their awesome events if they're in a town near you!
Here's some info about the tour:
Repower America, along with the Hip Hop Caucus and a diverse coalition of partners is launching the Clean Energy Now! Bus Tour that will bring together leaders from the faith, business, and climate communities alongside entertainers and prominent figures from across the country.
The tour will kick off in New Orleans and roll through Arkansas, Indiana, Missouri, Ohio and the District of Columbia for a variety of events including community rallies, roundtables on college campuses, tours of clean energy job sites and musical events. The Tour will amplify the voices of young people and communities of color fighting for a clean energy future.