Red and Yellow, but GREEN ALL OVER!
Lonna Dawson
|
February 10, 2010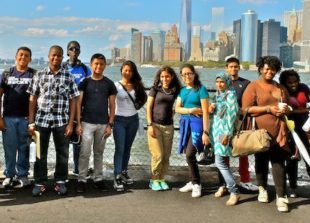 For two days, Darrell and I were practically Spalding High School Jaguars in Griffin, Georgia! We met students with cool monikers like Red and Black and I even got nicknamed Yellow because of my colorful scarf. But, Spalding was definitely Green!
The first day we were there, the Go Green Club was conducting a huge recycling project and had recently started a school garden. We learned that the Robotics Club had even used recycled parts for their annual projects. We also met students who, although never joined the Go Green Club on campus, had a personal commitment to lowering their emissions.
I met one student who is the Youth Leader of her county's recycling program and whose family member built the first solar powered home in Griffin, Georgia. Another student uses $100 bucks out of every pay check he earns from his after-school job to buy energy efficient light bulbs to distribute to his friends and neighbors.
Some students didn't even know that their personal efforts could tie into a movement. I asked, "Are you a member of the Go Green Club?" Several students replied, "No, but I will be!"