Get Your Climate Rock ON!!!!
ACE Students
|
February 8, 2010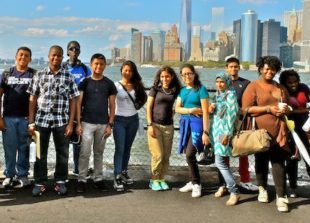 CALLING ALL MUSICAL VIRTUOSOS !!!!!
We want to feature your original music on our website and in our videos!
The purpose of the Climate Activist is to make the Climate Change awareness movement irresistible. What better way to do this than with your rocking tracks!
Whether you rhyme, sing, make beats or compose, we want to hear your flows. All music genres are welcome as long as it is good music. That said we want a wide variety of music from Electronic, Hip-Hop and Rock to Country, Reggae, Pop and more. Plus, you'll retain ownership of your music, of course, we'll just get to use it for a good cause.
If you would like to get your music featured on our website and other ACE promotional materials please contact Ambessa at: [email protected]
Let's confront global warming with some cool grooves….