ACE Atlanta is out groWING!
Lonna Dawson
|
February 1, 2010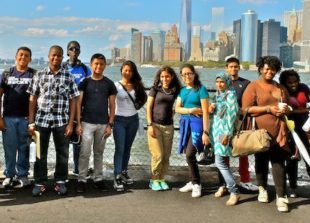 On Saturday, the ACE Atlanta team attended a super SWEET partner event with Trees Atlanta. The Atlanta Community Food Bank hosted a great fruit tree sale where people came from all over Atlanta and even as far as 60 miles outside of the city to purchase various trees. And the fun didn't stop there…
After the sale, Darrell and I headed over to Burgess Peterson Elementary School to help Trees Atlanta plant 10 fruit and nut trees. Burgess Elementary has an colorful campus with student work down every hallway and an even more vibrant student body who came out to dig the holes, plant the trees, and put down the mulch.
The students and their school coach had started several campus gardens a few months earlier and were super excited to get pomegranate, fig, cherry, pecan, and pawpaw trees planted. Sounds delicious, right? I know!
Darrell and I were covered in mud and momentum for continued work with students who are transforming their communities. Ahhh, how sweet it is!