A Great Day for Houston Trees
ACE Alumni
|
February 1, 2010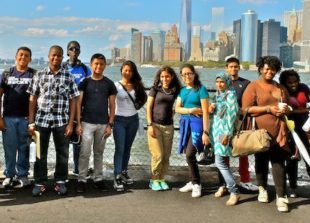 Just like Lonna and Darrell in Atlanta, on Saturday (Jan 30), the Houston ACE team worked with 60 volunteers to plant 500 trees in Weiss Park along the 610 Loop. In an event sponsored by one of our local partners, Trees for Houston, for their Arbor Day Planting we added to the Houston tree population AND did it in only 1.5 hours!
High school students from YES Prep North Central, who bused in 51 students (but just like in the presentation, they planted enough trees to make up for their buses' carbon emissions!), and Cinco Ranch High School joined AJ and I to plant as many trees as we possibly could.  Which was made only a little bit harder because a cold front blew in the night before—40 degrees + Fei = Shaky Camera Filming. Luckily, Trees for Houston brought us some warm coffee to get our juices flowing, and it must have helped because we finished in record time! So imagine us and 200 other volunteers as we shivered and planted the morning away.
But wait, you don't have to imagine! Because we totally got this on video and in pictures:
If you want to learn more about Houston ACE and our Upcoming Volunteer Events, follow us on Twitter (@HoustonACE or @ClimateEd) or email us at [email protected]! We're already working on something especially for high school volunteers during the last week of February so stay tuned!