X Games = Xtreme Questions
ACE Alumni
|
January 28, 2010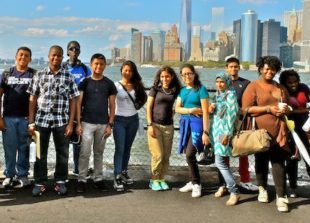 – Will it ("solving climate change") work?
– Why are the X Games lights on all night?
These are just a sampling of the incisive, thoughtful questions poised today during our rock concert–uh, I mean climate change presentation–at Aspen High School. These are ADVANCED questions, the kind of questions you'd expect at AP classes and board meetings and maybe, just maybe, at an ACE staff meeting.
I'm not a guy to wax poetic, or get touchy feely, or even hug people unless I really have to–but those kind of hyperintelligent questions flood me with hope.
Because ultimately it's about you!
You have to make the solutions to climate change–YOU have to make it work. You have to vote with your dollars and reward companies that do good things. And you have to ask tough questions of even the coolest organizations (those X Games lights are on because they're preparing around the clock for the competition this week).
And asking tough questions is the only way you'll get the answers you want.