YACC Download
ACE Alumni
|
January 27, 2010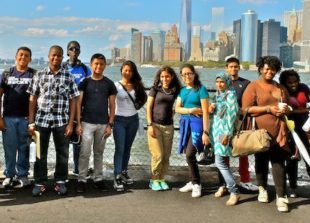 Hey guys, this is Terrae checking in about the latest YACC class! What's YACC, you ask? Good question. It's this hot new group I'm starting up at Met West High School called Youth Activism against Climate Change –> YACC for short. This is my ongoing blog series, so you can find other posts here.
As I said last week, I was going to show the movie "An Inconvienient Truth" to my students in my class/ action team. The movie was not a total blow but it was difficult making sure people stayed engaged. I thought the movie would do the work of engaging them, but not so much. Hmm.
Thankfully, THE STUDENTS came up with a solution to bring the energy back up! They took the initiative to provide themselves with yogurt & apples to get a second wind! It worked to my surprise. Aside from that minor struggle, I think most of the students learned a lot of new information, if not, then simplified information they already knew. This was a critical first step for us, because in order to take action against climate change, we needed to know more about the problem.
Next week, Ashlee Jensen from ACE will be coming to talk to the class to start getting them ready to take action and she'll provide some resources to get us going! I have been doing a lot of teaching and I have a lot more to do… but I think the students are ready to get a little more active! And, after seeing An Inconvenient Truth, I'm excited to say I think we're ready.
Until next week, Peace !