Haiti Struck AGAIN, Today…
ACE Alumni
|
January 20, 2010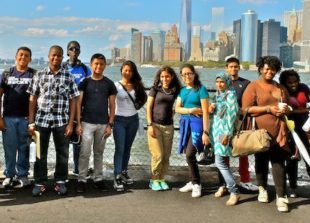 The 7.0 magnitude earthquake hit Haiti about a week ago and the 6.1 magnitude aftershock came this morning! These people are in major need of money for surgery. They need pain killers to numb the pain of bones being popped back into place or limbs amputated…yikes!
While earthquakes are not caused by climate change we can see how a country with so little resources is being seriously impacted. And, to me this connects because scientists agree that the world's poorest countries will be hardest hit – at least at first – by the impacts of our changing climate.
Back to Haiti…
They have a few doctors giving surgery out there but they only have 4 bed to work on and no oxygen so someone could die at any minute. 20,000 people are dying everyday. The World Food Program passed out 250,000 meals already, but 100 million need to be distributed and they only have 16million. U.S. troops flew in to help give goods to the people of Haiti.
Nearly 1.5 million people are homeless. This is recorded to be the worst earthquake in 200 years. Just yesterday two of my teachers talked about Haiti in front of our student body…in less then 5 minutes we raised over $100. Our goal is to raise $500 by the end of the week.
Here are some easy and great ways we can help out:
SMS text "HAITI" to 90999 to donate $10 to Red Cross relief efforts
SMS text "YELE" to 501501 to Donate $5 to Yele Haiti's Earthquake Relief efforts
SMS text "GIVE10" to 20222 to donate $10 to Direct Relief
http://www.haitichildren.com/
http://yele.org/
Watch the Aftermath