Why's It So Cold?
ACE Alumni
|
January 15, 2010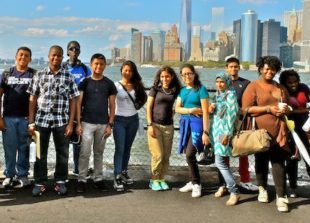 From Liz, resident Intern in Houston, addressing a topic that has made its mark in TX:
"It's so cold outside, obviously this global warming thing is a hoax"
"Yeah, dude, totally"
WRONG. Just because it's cold outside does not mean that our globe is not warming at an alarming rate. What's causing this rapid cold weather?? Winds from the arctic are collecting moisture and traveling down the United States, into the farms and ranches of Texas. This sudden change in the Arctic was something of an anomaly. So, to put it in terms, global warming is the rule, it is what is happening while these gusting winds from the Arctic are the exception to the rule, a rare aberration that is likely to happen every once in a while.
http://www.walesonline.co.uk/news/wales-news/2010/01/12/cold-snap-should-not-cast-any-doubt-on-global-warming-91466-25576477/
*new links added below but the blog from Reb above is great too!*
http://www.nytimes.com/2010/01/10/weekinreview/10chang.html
http://dotearth.blogs.nytimes.com/2010/01/09/cold-patches-in-a-warm-world/?ref=weekinreview