ACE Youth Advisory Board
ACE Students
|
January 13, 2010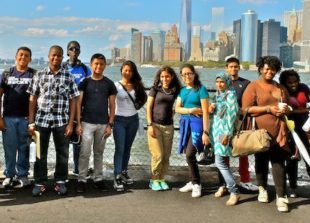 By Daniela Lapidous – ACE Youth Advisory Board
Hey, there! We are the inaugural Youth Advisory Board – Alec Loorz, Adarsha Shivakumar, Shreya Indukuri, and Daniela Lapidous – and we are ready to be the direct connection between ACE and our generation.
Our mission statement goes like this: "The ACE Youth Advisory Board strives to use our experiences with climate action to add a youth perspective into ACE programs and inspire other youth to take initiative."
We are just four normal high school students who have learned about the effects of climate change and been inspired to actively take control of the future! You can read more about our individual experiences here and now we're going to be meeting with the ACE team, giving feedback on lots of programs, and brainstorming our own projects for spreading a relevant and motivating message to people our age.
We're all really excited to start coming up with creative ideas and chatting it up with everyone out there reading this, so leave us comments on this blog – we're here to listen, help, communicate, and inspire! Thanks!