YACC Dispatch – #1
ACE Alumni
|
January 8, 2010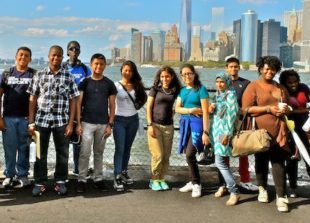 Hey guys this is Terrae one of the ACE interns here in the Bay Area checking in. I'm here to give updates about my project and action team. Its called the YACC which stands for Youth Activisim against Climate Change.
So it is 24 hours before I launch my Action Team at my high school and I am nervous !!! Mine will be run a little differently though. My action team will be a 90 minute class every week and students get credit for it, so I will be adding a curriculum to the class and teaching A LOT of global warming. Tomorrow I will be introducing the idea of global warming very generally but as weeks progress I will teach more in-depth subjects such as the carbon-cycle and the climate gap.
I'm excited about my first class but my only concern is what can I teach for 90 minutes !! I think I have it down but I have ALOT more work to do. Ill keep you guys posted about how the first class goes with future video uploads on my Action Team !
Peace !