Happy Holidays!!
ACE Students
|
December 22, 2009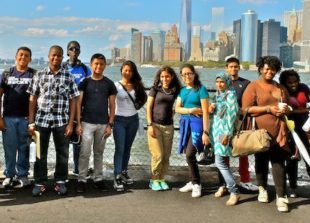 Hooray for break, no homework, homemade COOKIES and amazing movies on TV!
As you kick back and relax, we just wanna say: have a wonderful holiday! Below is a photo of our entire crew hanging out in Oakland last week.
Did you know you can find us in a few new places this spring? That's right! Check us out in New York / New Jersey; the D.C.-area; Austin, TX; Atlanta, Georgia and Denver, Colorado!
Happy Holidays.
P.S.: check out our haiku contest! Send us your BEST holiday haiku by Wednesday and you can win a $20 Borders Gift Card! The winner will be announced this week.