Alec Loorz: At the end of Copenhagen
ACE Students
|
December 22, 2009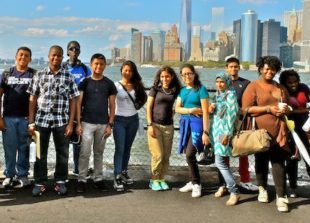 By Alec Loorz – ACE's Youth Leader
Exhaustion. Excitement. Disappointment. Hope. Confusion. Contentment. All emotions I felt on my last day in Copenhagen.
I'm home now, and what an adventure this has been. Despite the problems with the final agreement (which I'll talk about in a minute,) I'm totally glad I went and proud to have taken part in this historic event.
My last day was very fast paced and exciting. I gave a presentation, saw Al Gore, and I made some great connections for the million kid march.
My presentation was to a group of high school students from Copenhagen, and they were really a great audience. Attentive, inspired, and fired up throughout the whole thing. And afterword they presented their ideas for green schools to me and a panel of people from Copenhagen, Sweden, and the US. Some of their ideas were brilliant. And these aren't crazy things like completely remaking the building out of dirt or something. They're tangible, concrete things that will make a real difference.
They mentioned that most of the schools in Copenhagen don't recycle. Which is surprising, seeing that Copenhagen is known as one of the greenest cities in the world. And our host family also said that the people really don't care about the environment much at all. They just ride bikes because it's what they do. They don't really have a choice. It's interesting to see all the different opinions and thoughts about everything.
Especially with the final agreement that came out of the negotiations. It isn't even close to what needs to happen. The science says we need to cap Carbon at 350ppm (parts per million,) and we're at 387 now. But in the negotiations, they were talking about as much as 450 and even 700 parts per million. That would ensure the destruction of this planet as we know it today.
Also, the science shows that we need to keep the temperature rise below 1.5°C to avoid the worst effects of the climate crisis. But the final agreement said 2°C, even though the countries most affected (Tuvalu, Maldives, African nations) protested to that earlier in the week. The agreement was created by only 5 nations, without the consent of the other 187. That totally bypasses the UN procedures and is illegal, but we're the US, we can do anything…..sigh.
Despite the disappointment I feel knowing that we had this amazing opportunity to come up with a real agreement, I am still hopeful. I feel empowered to see over 100,000 people gathering together to demand climate justice. 100,000 people. That's insane. And just to see the support given to this issue by the people at the conference is amazing. Over 150 heads-of-state came to Copenhagen last week. That's compared to 1 who came to Kyoto. Yes, 1. And that one country was Japan, the country hosting the event.
This has been a historic conference. Even though the final agreement wasn't perfect, it is something. Better than what could have happened. At least we have a target, and the world is pledging 100 billion dollars to climate change reducing efforts.
We can only look forward to what will happen next year at COP16. Hopefully the UN will listen to Al Gore's advice and host the conference on the statistically hottest week of the year, in Mexico City. Maybe that will get them to make some real commitments.
Until then, I am going to be focusing on a million kid march in the US, bringing youth from all over the country to demand that our leaders make decisions that benefit our future. Our voices need to be louder, our message needs to be stronger, our commitment needs to be 100%.
Thank you so much for following my travels in Copenhagen. I'm honored to have the opportunity to report back about everything that went down over there. I'm so excited about all the change we will make in the next couple months. I hope you will join us. Let's save the world.
I'm launching my new website soon, with tons of opportunities to get involved (including an awesome iPhone app!) www.kids-vs-global-warming.com