Alec Loorz: Live from Copenhagen Day 4
ACE Students
|
December 16, 2009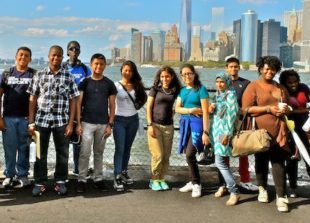 By Alec Loorz – ACE Youth Leader
Wow, I feel so inspired while writing this. The highlight of my day was a speech by Al Gore calling upon the world leaders to take real action for the youth of this and every generation.
He began and ended with a standing ovation from the crowd. And right after a joke about a farmer in a car crash saying "I feel fine," he noted a group of people who aren't formally represented and don't have an official voice in this process. And that is the generations who follow us.
There is no way the negotiators will create a binding treaty in the next 3 days. But they can make some sort of agreement that will be a good starting place. But we can't wait till another year to get to that binding agreement. It's already too late. So, Mr Gore offered a solution to this problem. He proposed the next meeting be in July of next year, rather than November, or December, like was planned in Mexico City. When he said this, there was an audible "hm" from all the negotiators who were there, some of them right next to me. It was part, "How dare you?" but it was mostly, "wow… that might work."
He also proposed the US should vote on the climate bill on April 22, 2010. The 40th anniversary of earth day. To help make this happen, I am planning a million kid march for April 2010. We are calling it the iMatter March: One Million Kids Stand Up for Their Planet. It will be part physical march on Washington and other cities throughout the US, and part virtual march, using an iPhone app that should be ready in early march. Everyone from parents with babies to school children to teens to college students will be peacefully reminding our leaders that it's not about money or power, it's about the survival of their grandchildren and generations to follow.
Mr Gore passionately asked the question, "Who are we?" And talked about how if these negotiations stall like they have been so far, that the reasons will be forgotten in the very short future. If they let it stall and the unthinkable happens here in Copenhagen, these leaders are going to have to watch their children grow up knowing they did nothing for them. And their grandchildren would look back at the Copenhagen conference and ask them, "Why didn't you act?" "Why did you let this process fall into paralysis?" "Don't you care about us?" "Didn't you realize we were at stake?"
Then the room went quiet and he said, "I don't believe that is who we are."
These leaders have to power to make the right decisions, and can, instead, be thanked by their children and grandchildren for making the right choices and creating an agreement that ensures the survival of future generations.
I can only dream and hope for the lives of every member of this generation that our leaders will listen to him. We can't afford to wait for even one more year. We need them to be bold, be brave, and do what's right for their grandchildren and their planet. And not necessarily what benefits their pocketbooks.
Let's make it so.