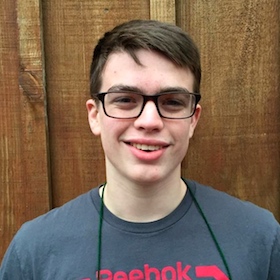 Jacob Hartman
Action Fellow Alumni
Greater Boston Area
Residing in Boston, Jacob Hartman is a junior at Newton South High School. He is a member of his school's Environmental Club, which aims to create a more sustainable school through projects like recycling and battery drives. He is also is a member of the Sustainable Agriculture Project, which maintains a small, sustainable organic farm that provides produce to local restaurants and the cafeteria. This is Jacob's first year as an ACE Action Fellow.
He first got interested in climate and environmental issues after learning that by mid-century, up to fifty percent of living species could be extinct. As a person strongly interested in ecology, this deeply disturbed him to the point where he decided to take action. He hopes that his efforts in the environmental field can one day help to stop the greatest threat to biodiversity that the planet has ever faced, climate change.
In addition to his environmental aspirations, Jacob is very interested in fitness and nutrition. He has been a member of several of his school's sports teams, but his true athletic calling has proven to be weightlifting. Jacob also enjoys skateboarding, carpentry, and working with children.