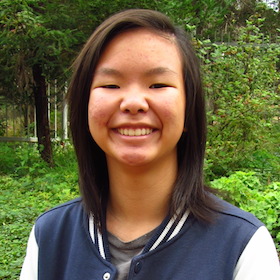 Isabelle Tseng
Action Fellow Alumni
San Francisco Bay Area
Mission San Jose High School sophomore, Isabelle Tseng, has been passionate about saving the environment since a very young age. Being member of Tzu Chi Foundation, an international humanitarian NGO that emphasizes environmental protection, for almost a decade had inspired her to live a green, sustainable lifestyle while motivating others to do the same! Whether it is recycling or taking short showers, she is willing to do anything to reduce this global warming crisis. She believes that even the smallest changes in people's habits can collectively make a large impact on the environment. Nobody should wait until damages are irreversible to take action!
In her free time, Isabelle enjoys swimming, vegan baking, drawing, playing and listening to music. She thinks being in the water is the best place to be! She loves being part of her school's Model United Nations (MUN) club, learning about world issues, and coming up with solutions with her peers at MUN conferences. Together with friends, Isabelle serves the community by visiting nursing homes, participating in food distribution, helping at homeless shelters, etc. In addition, she has been vegetarian since birth as she believes in protecting all lives and improving the environment. She loves to travel and has relatives all over the world. She's been to Asia, Europe, and Africa, including the exotic island of Mauritius. Trilingual, she speaks English, Mandarin, and Spanish.
She is a proud ACE Action Fellow who looks forward to teaching others about climate change and empowering them to take action to save our planet!