Stop Line 3 101
Victoria Whalen
|
September 22, 2021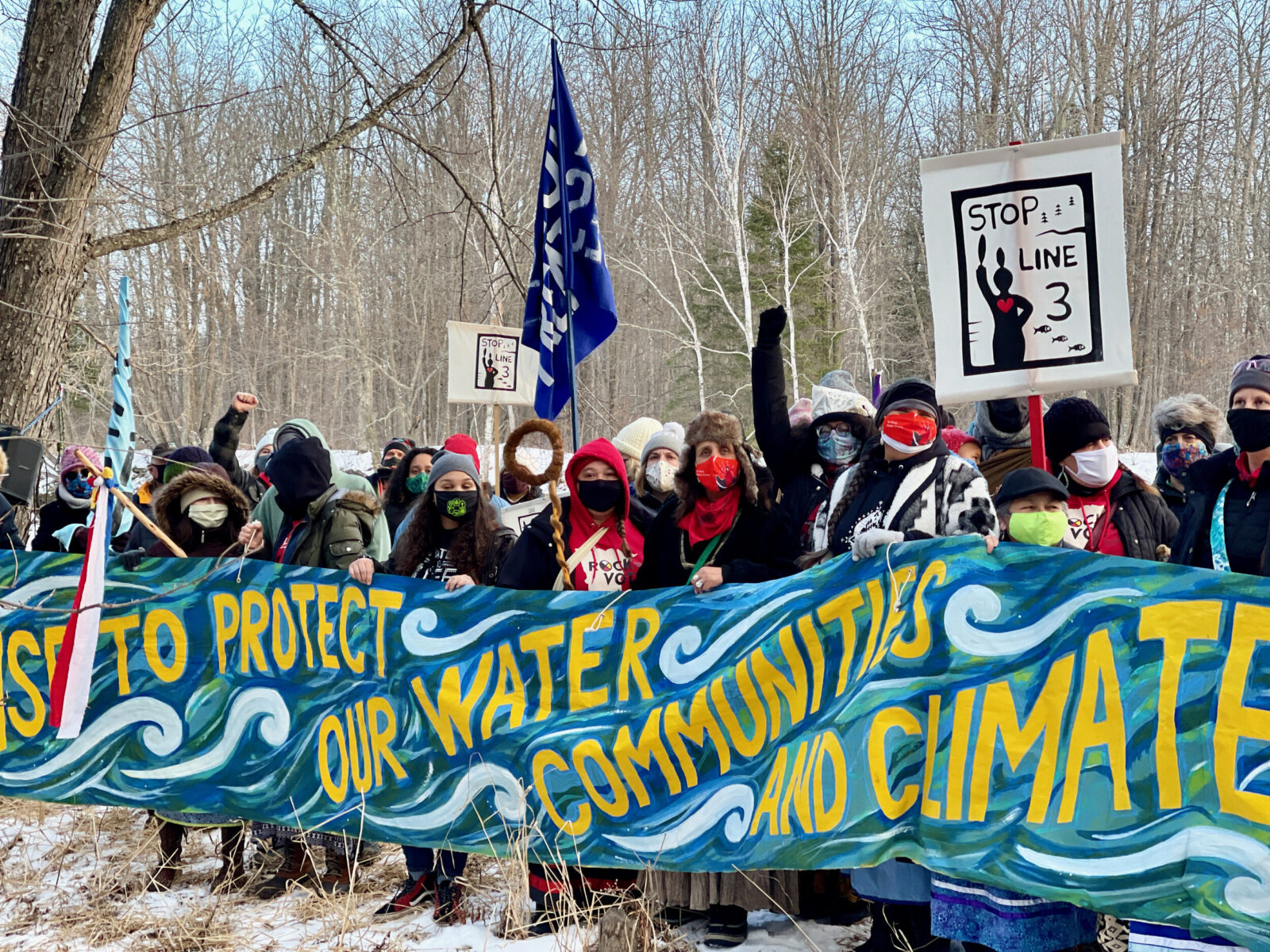 There is an ongoing climate justice battle happening in Northern Minnesota, one that revolves around climate rights, water rights, and indigenous rights. Stop Line 3 is a movement that is demanding the cancellation of the new Line 3 Pipeline that would deliver nearly 1,000,000 gallons of crude oil from Canada to Wisconsin each year.
What is Line 3?
Line 3 is an ongoing pipeline project that would ship approximately 915,000 barrels of crude oil from the tar sands of Alberta Canada to Superior, Wisconsin. This pipeline spans across Northern Minnesota and is infringing on the rights of Minnesota inhabitants, including several indigenous tribal nations.
The Stop Line 3 project is broken down into two parts:
The "old" Line 3 pipeline is made up of 1 out of 6 existing pipelines that are in place in Northern Minnesota. This pipeline has been corroding for decades and has accumulated around 900 structural anomalies (including leaks, cracks, and corrosion), resulting in increased levels of soil and water contamination surrounding the pipeline. Instead of fixing the issues, the Enbridge corporation decided to abandon this pipeline and build a new "replacement pipeline".
Cue in Line 3 2.0– the current pipeline project that is being built in a new location and doubling the size of its predecessor. The new pipeline route will pass through public land, several hundred acres of untouched wetland ecosystems, and through the treaty territories of the Anishinaabe people.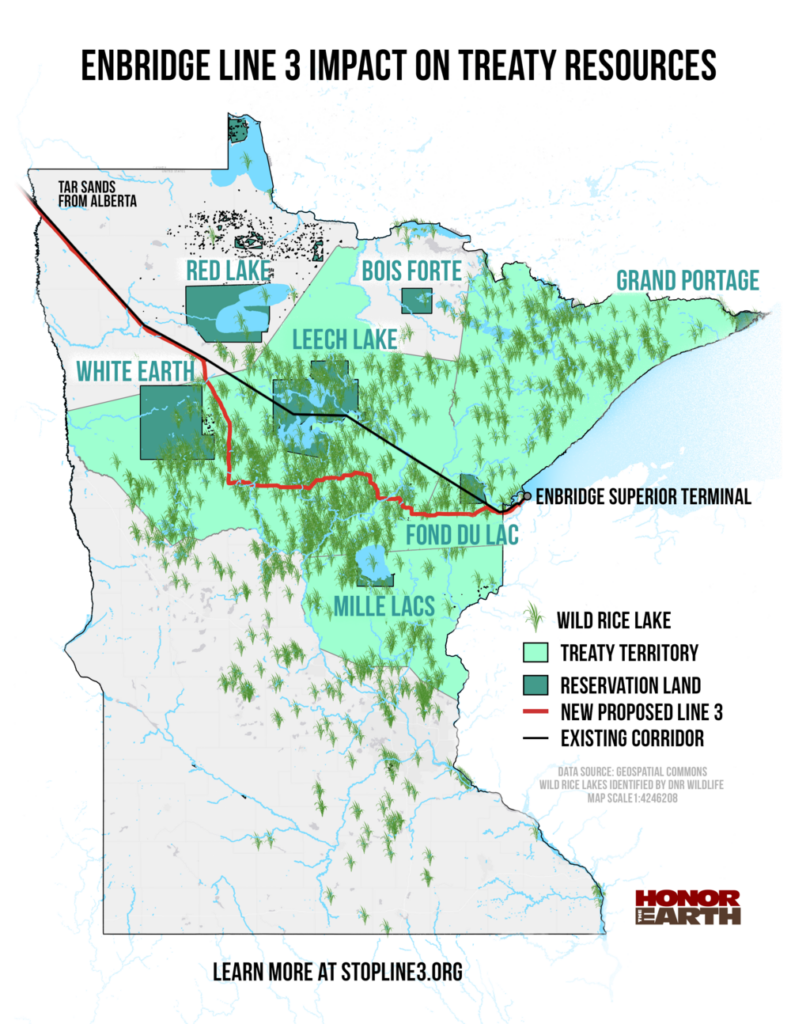 Indigenous Rights Impacts
One of the main concerns from those protesting the pipeline is the infringement of tribal nations and Indigenous peoples' right to sovereignty. Sovereignty is the right to self-determination and self-government that is recognized by the United States federal government and constitution. The state of Minnesota does not have consent from the tribal nations in the path of the pipeline, nor does it have jurisdiction over tribal land.
Treaty Rights are also being violated, especially those from 1855, 1854, and 1842 treaty areas. The U.S. government has a federal duty to protect these rights to hunt, fish, harvest wild rice, gather medicinal herbs, and maintain cultural and sacred sites of the Ojibwe people. Line 3 is directly threatening the culture and survival of various tribal nations including (but not limited to): The Dakota, The Lakota, and The Nakota.

Wild rice, also known as manoomin, is the state grain of Minnesota and the livelihood of the Anishinaabe. Considered a sacred food and used in many ceremonial settings, wild rice is a key economic and cultural resource. The new pipeline would impact 389 acres of wild rice in 17 different areas around Northern Minnesota.
"Where there is wild rice, there are Anishinaabeg, and where there are Anishinaabeg, there is wild rice. It is our sacred food. Without it, we will die. It's that simple."

Stop Line 3
Water Protectors
Water Protectors are activists and organizers for the land– for the water, the Earth, and for the people who inhabit it. Some have indigenious roots, while others do not, but they all come together to fight against environmental injustices and climate change. Examples would include those who fought against the Dakota Pipeline, activists who are at the frontlines of Line 3 peacefully fighting for their right to survive, and others who are fighting back against fossil fuel corporations and water contamination.
This is now the sixth year that water protectors have been campaigning for the end of the Line 3 pipeline project. Anishinaabe women have a sacred responsibility to protect the water, and are now calling on all allies, niijiiwag, and those of strong hearts, to join and protect the waters from the Enbridge corporation and the Canadian Tar Sands.
"Aren't these just protestors?" Many would answer no.
Climate Impacts
When it comes to climate change, pipelines are synonymous with outdated fossil fuel infrastructures that continue to degrade our planet. Tar sands start their journey off as solid material, which means instead of drilling it needs to be opened up and mined. This process is energy-intensive, resource-intensive, and exposes tons of toxic and carcinogenic air pollution into the atmosphere. This form of crude oil is also one of the dirtiest because of its ability to produce more greenhouse gases than its other fossil fuel counterparts. On average, a gallon of tar sand gasoline will produce approximately 21% more carbon dioxide emissions.
"Line 3 will carry enough oil to produce about 170 billion kilograms of carbon dioxide per year, equivalent to about 50 coal power plants, or 38 million vehicles on our roads."
Another large cause of concern is the inevitable and disastrous oil spills that occur from these outdated practices. This pipeline would risk over 200 bodies of water if an oil spill were to occur. Enbridge, in particular, has had over 800 oil spills, including the most disastrous U.S. inland spill in history. In 2010, a 6-foot break in another pipeline allowed nearly 1,000,000 gallons of diluted crude oil into the Talmadge Creek and contaminated 30 miles of the Kalamazoo River. Disturbing the ecological relationships in freshwater systems and wetlands has long-lasting impacts on climate change. Wetlands are climate change mitigators because of their ability to be greenhouse gas sinks– meaning they can store carbon instead of letting it leak into the atmosphere!
Demands
The people of Minnesota have had enough. Line 3 has already caused significant and detrimental impacts on the economy, the environment, and the lives of those who are on its path. These voices have been silenced long enough. There are two main demands that the activities at Line 3 are fighting for:
Clean up rather than abandon the "old" Line 3. Do not allow Enbridge to leave this old pipeline to further corrode and contaminate its surroundings. A full cleanup and removal of the pipeline is in the best interests of the people and the environment.
Stop the building of the "new" Line 3 pipeline and invest in renewable and sustainable infrastructure that supports the people of Minnesota. Now is the time for a just transition that moves away from fossil fuels and towards a greener and cleaner future.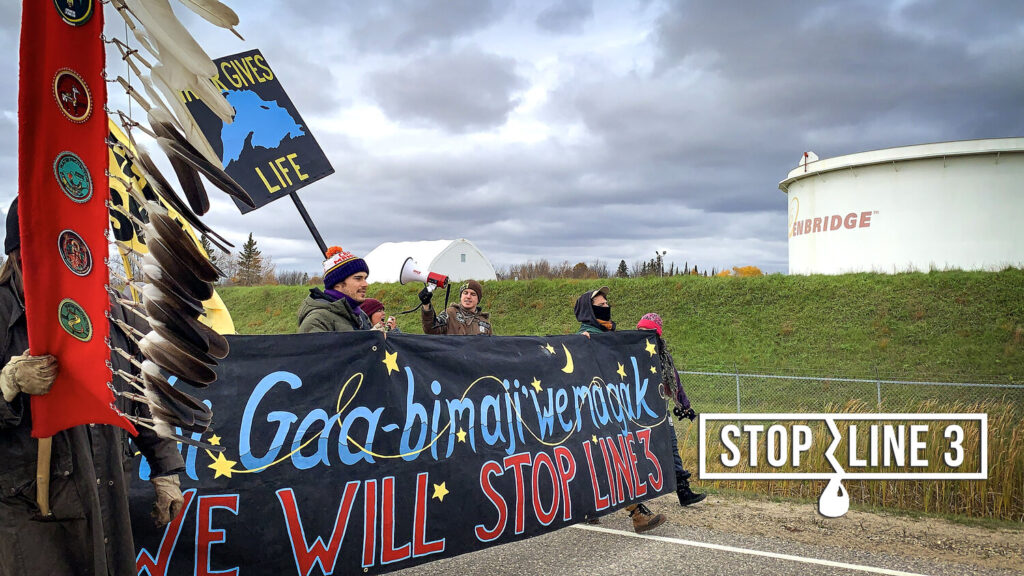 Completing the Line 3 pipeline is another step toward climate catastrophe.
Line 3 violates the Indigenous rights of the Anishinaabe people, will cause severe damage to several hundred acres of climate change mitigating wetlands and wild rice fields, and threatens to destroy the culture and livelihood of various first nation tribes.

We must hold Enbridge and the United States accountable! The tar sand industry is dying and there is no need for dirty fossil fuels to be extracted and transported. Tell President Biden: #StopLine3 now and do what's right.
Will you sign this petition today?
Want to learn more? Check out Stop Line 3
Want to read more? Check out the ACE Blog.