North Carolina Youth Climate Summit
Zoë Bettmann
|
May 22, 2018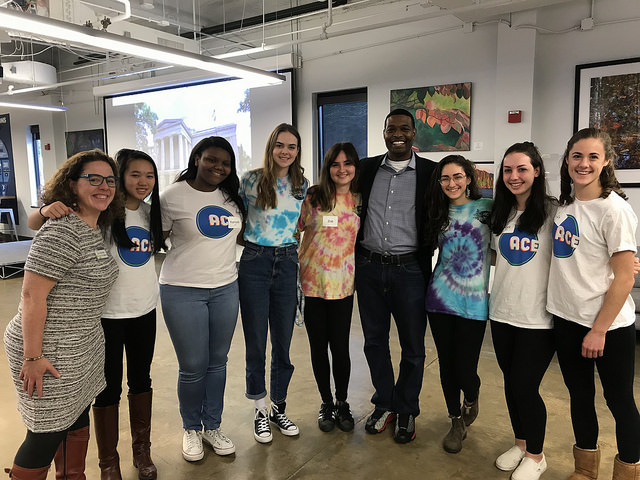 During the summer of 2017, I volunteered at The Wild Center in New York for a month. While there, I learned about their Youth Climate Summit program, an annual conference for high school students that brings different school groups together to learn about and discuss climate change. The first Summit originated in New York with one student's idea, and has since spread all over the world.
Many youth feel we can't make a difference because of the lack of recognition. We are constantly being underestimated. I had already been the Environmental Club president for a year prior to hearing about the Youth Climate Summit and had never heard of any opportunity quite like it. I thought, "Just because no one has started a climate summit in North Carolina yet, doesn't mean there can't be one."
Just because no one has started a climate summit in North Carolina yet, doesn't mean there can't be one.
I had a meeting with Jen Kretser, founder of the Youth Climate Summit program at the Wild Center, and then immediately told my club about the program when I got back to North Carolina. They were instantly as excited as I was! Somewhere in the midst of summit planning, Jen Kretser emailed me about applying to be an ACE Action Fellow. I applied and fortunately got accepted! Being an ACE Fellow helped exponentially with summit planning. Discussing new and important climate change-related issues every week reminded me of why I was planning the summit in the first place.
Our North Carolina Youth Climate Summit on February 17, 2018 began with guest speakers. Jen Kretser flew all the way from New York to be there and gave an overview of The Wild Center's Youth Climate Summit program. It got everyone more excited to hear that people all around the world were attending Youth Climate Summits too. Then North Carolina Secretary of Environmental Quality, Michael Regan, spoke. His words and his work were inspiring. It felt hopeful to know that we have people in power who care so much about the environment's well being and also our well being.
We had six workshops from various environmental organizations and we split up students from different schools to make sure everyone got a chance to meet new people. Throughout the summit, I may have appeared put-together to the outside world but my mind was a nervous wreck. "What if everyone's bored? What if everything thing goes wrong?"
However, once everyone was settled in their first workshop, I realized that our plan was foolproof. We set out to encourage climate action and we were doing just that. With other ACE Fellows, I helped lead a workshop on how to talk about climate change with people who feel ambivalent about it. People who attended responded and engaged which was so exciting. I could see them taking it all in and I truly believe those who attended the workshop will go home and talk with their parents about climate change.