New Study: The ACE Program Works
Matt Lappé
|
October 28, 2014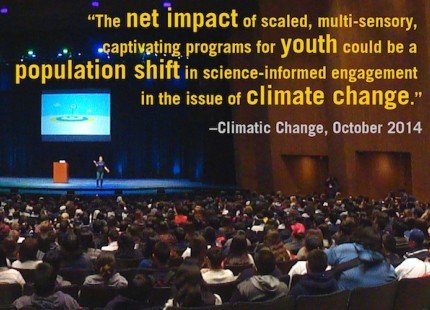 In February 2009, the first ever ACE Assembly was delivered to a handful of students at Mission High School in San Francisco.
Over five years and 1.8 million students later, ACE is honored to be the subject of a new study published in the academic journal, Climatic Change.
Experts at Yale, George Mason University, and Stanford carried out the research project, and surveyed 2,847 students in 49 high schools nationwide before and after viewing the ACE Assembly. Researchers found that students became more knowledgeable about climate science, felt more confident in their ability to take climate action, and changed their communication and conservation behavior in a number of important ways.
Want to learn more? Download the paper here.
Major findings include:
Students demonstrated a 27% increase in climate science knowledge.
More than one-third of students (38%) became more engaged on the issue of climate change.
The number of students who talked to parents or peers about climate change more than doubled.
The paper concludes that "The net impact of scaled, multi-sensory, captivating programs for youth could be a population shift in science-informed engagement in the issue of climate change. In addition, such programs can inspire youth for deeper engagement in school programs, personal action, and political and consumer advocacy."
Read more about the project and download the paper for free here.