Follow the Food: Mount Diablo Farm-to-Plate Expansion Campaign
Dejan Velic
|
May 22, 2014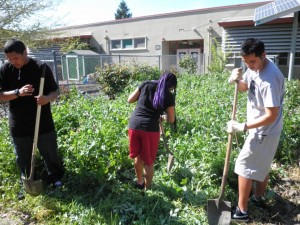 This post was written by Dejan Velic, a senior at Mount Diablo High School. Dejan is excited about food, nature, and protecting the environment for future generations.
A new generation of students are being taught how to be healthy and grow their own food at Mount Diablo High School! The International Hospitality and Tourism Academy (IHTA), which teaches students about healthy living and environmental science, is working with Patrick Oliver, the environmental teacher, to develop a pathway called "Sustainable Hospitality." This program not only teaches students how to eat and live healthy but also how to help the environment and fight climate change.
As part of the Sustainable Hospitality program, Chef Cindy and Mr. Oliver have created an in-school garden. Healthy, organic produce from this garden is then incorporated into the meals that the IHTA students are making.
The goal of the program is to have this food distributed across the Mount Diablo High School campus, so that all students can have access to a healthy and filling lunch. To meet that goal, Mr. Oliver is planning to expand to 2 acres worth of organic garden space. This expansion is meant to start this summer.
Not only will students will have the opportunity to work in the garden but they will also learn how to manage and set up a garden of their own. This way, students will be able to grow their own healthy food at school AND at home.
To support the campaign to expand the IHTA farm-to-plate program, please watch this video, sign this petition, and show up at the Follow the Food Bay Area Youth Summit on May 24th! Sign up here!